Snack Girl Has THE Taco Tuesday Recipe
If you haven't seen The Lego Movie then you don't live with an 8 year old boy.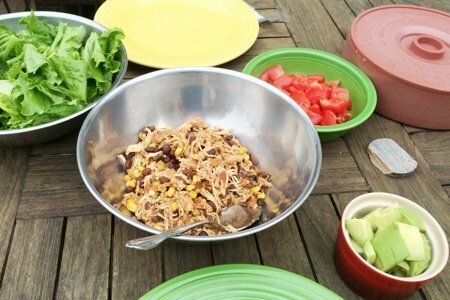 I have seen the movie twice and I enjoyed it (I am not kidding). Taco Tuesday features prominently and I think most Americans enjoy their own "taco night" maybe even more than once a week.
Why? Tacos are easy, fast, and you can sneak all sorts of vegetables in there. I feature a recipe in my book – Healthy Tacos With A Twist – that I use a lot.
When you have time to plan, this recipe for slow cooker chicken taco filling is SO easy. The nice thing about it is that it combines corn and beans with the chicken so you get a "stew like" filling with many flavors.
Also, you sneak in some corn and beans with the chicken meat (which is very lean) so this is low in calories when compared to cooked ground beef.
This made enough for my family of four and then some. We froze over half of it for another night.
What do you do to make "Taco Tuesday" more interesting?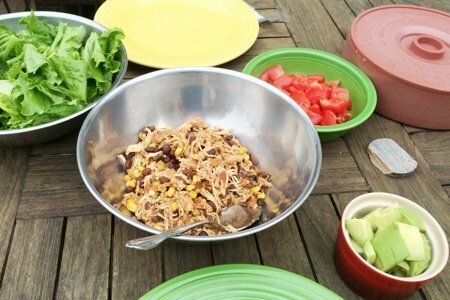 Slow Cooker Chicken, Bean, and Corn Filling For Tacos

Makes 24 tacos, 4 ounces (1/2 cup) of filling per taco

Ingredients
3 chicken breasts, skinless and boneless (about 2 pounds)
1 package taco seasoning
2 tablespoons minced garlic
2-15 ounce cans black beans, rinsed
1 pound frozen corn
16 ounces jarred or fresh salsa

Instructions
Place chicken in the bottom of a 6 quart slow cooker and sprinkle seasoning and garlic on top. Add the beans, corn, and salsa and cook for 6 hours on low or 3 hours on high.
After the filling has finished cooking, take two forks and shred the chicken. Serve with taco shells, chopped avocado, tomato, and lettuce.
Nutrition Facts
For one ½ cup serving of taco filling = 103 calories, 1.8 g fat, 0.5 g saturated fat, 10.8 g carbohydrates, 1.4 g sugar, 11.3 g protein, 2.5 g fiber, 173 mg sodium, 2 Points+
Points values are calculated by Snack Girl and are provided for information only. See all Snack Girl Recipes
Other posts you might like:
---

Snack Girl loves finding new websites that encourage eating healthy as a mode to lose weight....
---

While the economy withers, there is a fast food company that GREW by 23% in the last year. And, crazily, it features raw and sometimes local produce....
---
---
Get Free Email Updates! Yes please!
---