Slow Cooker Tater Tot Casserole: Vegetarian!
This slow cooker tater tot casserole will satisfy children and adults alike. Tater tots are not the healthiest food when served on their own.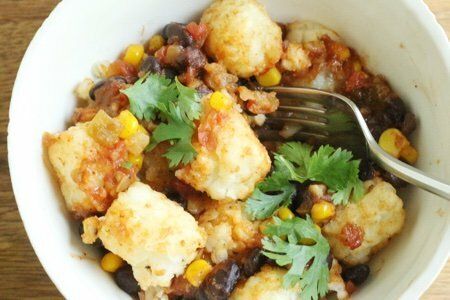 But, if you start adding beans, corn, and salsa to them – you can bring up the nutritional value of the dish.
I have been playing with fresh potatoes in my healthy potato recipe and casseroles in my tomato and bean casserole – trying to get healthy recipes to become staples in people's home.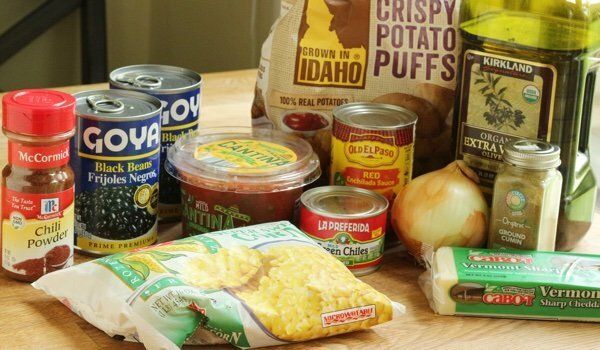 Most casseroles include cheese and meat. So when you make one and don't add these things – you need to come up with something that still tastes rich. I put cheese in the photo for those of you who would like to add some – but it isn't necessary.
Tater tots are a version of fries. I would love for them to be baked and have less sodium but then they wouldn't be tater tots would they? I have been criticized for using these in the past – but I think they can work if you don't eat them every day.
My kids LOVE THEM.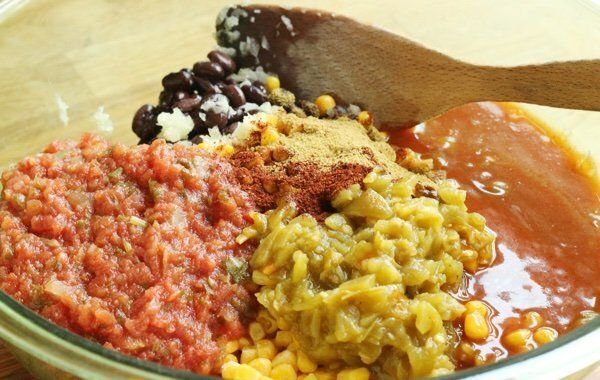 I did use an Instant pot for this recipe because it calls for sautéing the onions. This way, I can use one pot and one bowl instead of 2 pots and one bowl.
This dish is perfect for those nights where everyone is running around and will eat at different times. Casseroles are really perfect for crazy evenings.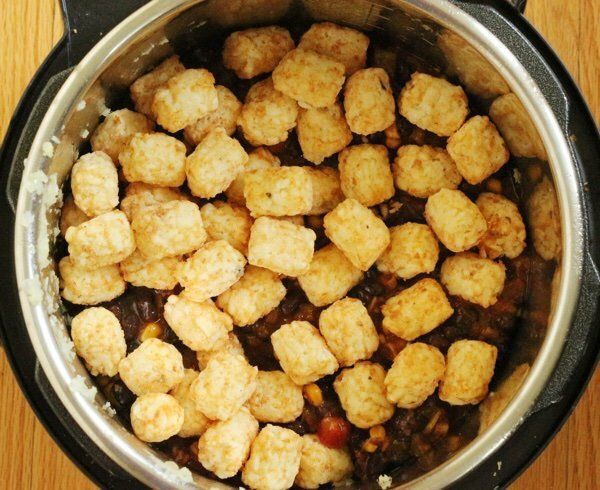 The sodium is out of control on this recipe and I believe that is due to the tater tots and the enchilada sauce. Every time you use a food that is processed like sauces or fries – the sodium is high. I looked for low sodium enchilada sauce and tater tots but I don't think that those products exist.
If you want to make this slow cooker tater tot casserole without enchilada sauce – add 2 cups of salsa. If you want to drop the tater tots – you can use frozen hash browns which are simply grated potatoes. They are kinda awesome but not as pretty as tater tots.
Do you avoid tater tots? What healthy casseroles do you make?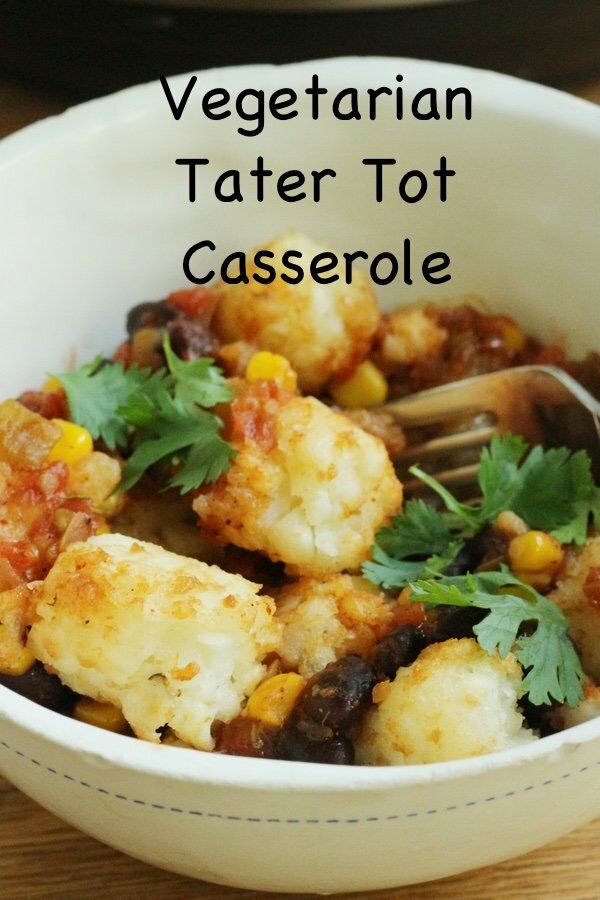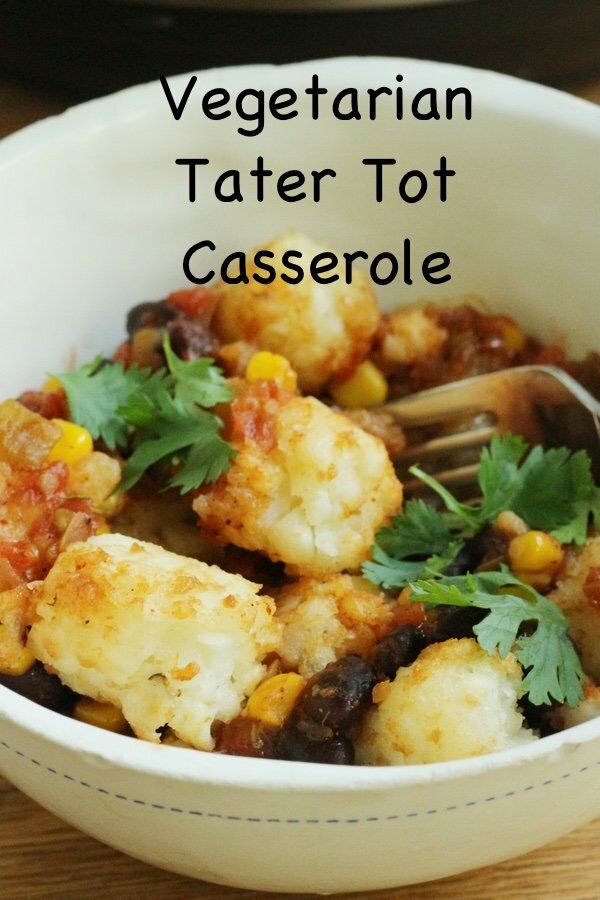 Slow Cooker Vegetarian Tater Tot Casserole Recipe

Makes 8 servings

Ingredients
1 teaspoon extra-virgin olive oil
1 onion, chopped
2- 15 ounce cans black beans, rinsed
1 cup frozen corn kernels
1 cup mild salsa
1-4.5 ounce can chopped green chilis (with juice)
2 teaspoons chili powder
1 teaspoon ground cumin
1-10 ounce can mild enchilada sauce
1-28 ounce bag frozen tater tots

Instructions
Spray a slow cooker or instant pot with non-stick spray. Heat the olive oil in a saucepan or instant pot. Saute onions until softened and put in a large bowl. Mix in beans, corn, salsa, chilis, chili powder, cumin and enchildada sauce. Put ½ the tater tots on the bottom of the slow cooker and add bean mixture. Top with the rest of the tater tots and cook on high for 2-3 hours.
Add fresh cilantro as a garnish (if desired).
Nutrition Facts
For one serving = 278 calories, 12.7 g fat, 2.1 g saturated fat, 36.4 g carbohydrates, 3 g sugar, 6.7 g protein, 6.9 g fiber, 700 mg sodium, 6 Freestyle SmartPoints+
Points values are calculated by Snack Girl and are provided for information only. See all Snack Girl Recipes
Other posts you might like:
---

This healthy potato recipe deserves top billing in your collection of recipes. Easy, delicious, and visually appealing, Hasselback potatoes are the best!....
---

Tomato and bean casserole should become an every day dish. First, everyone loves a casserole....
---
---
Get Free Email Updates! Yes please!
---