Is "Smart Balance" Peanut Butter Smart?
Snack Girl doesn't like to do this type of post.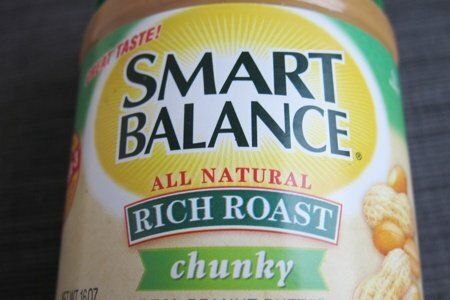 Why?
The people at Smart Balance mailed me a container of peanut butter for review and I am going to have to flame it.
I am a very staunch supporter of peanut butter. I think it is healthy, tasty, and one of those processed foods (ground peanuts) that you can count on. I even wrote a very brilliant article entitled How To Choose Healthy Peanut Butter in order to guide consumers.
The advice in the article was simple. The ingredients list should look like this:
peanuts
I know what you are thinking – where can I find such peanut butter. Everywhere! Smuckers, a national brand, sells Smuckers Natural Peanut Butter – their ingredients list is:
peanuts, contains 1% or less of salt
Pretty close, no?
What did Smart Balance do wrong? Here is a photo of the ingredient list:

SUGAR! See the sugar? Dried cane syrup and molasses. And they added oil which I believe is unnecessary.
If you like your peanut butter to be sweet, mix it with some jam, add a sliced banana or apple. You don't need sugar in peanut butter.
This is one of the MANY examples of a product making that healthy promise – but missing the mark. I buy a peanut butter brand called "Teddy Bear". It doesn't make any promises and it is perfect.
Do you like Smart Balance?
This product was received for review consideration. No other compensation was provided.
---
Other posts you might like:
---

Snack Girl features peanut butter A LOT. I happen to love the stuff and I use it almost every day....
---

After Snack Girl's recent exposé on Whole Grain vs Original Wheat Thins, readers have started sending her other potential food fakes....
---