Smoky Roasted Chickpeas
I happen to love smoky roasted chickpeas and I decided to share my secret.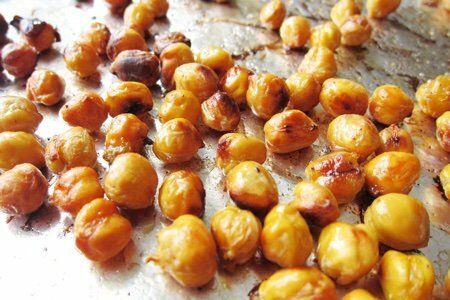 I do not smoke a cigarette and blow onto the chickpeas. Instead, I use a much healthier method. I buy Smoked Paprika – the best spice ever – and coat the chickpeas (AKA garbanzo beans) in the spice.
Do you see the bright red stuff in the photo?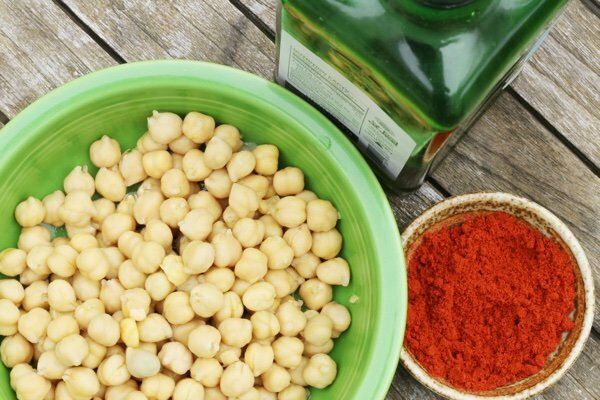 Yeah, that is the stuff! The photo at the top of the post is the chickpeas with only olive oil and salt because I burnt the ones with the Smoked Paprika and I ran out of time.
The simplicity here is unmatched. One can of beans, rinsed, tossed on a baking sheet with olive oil and some spices. You can't miss. What you get is a tailored to your taste crunchy snack that is high in protein and much better for you than potato chips.
Say good-bye to potato chips – I am serious. Bye!
Really, the only onerous part here is rinsing the beans. It turns out that rinsing the beans for 30 seconds reduces the sodium by 20 percent (see How To Reduce The Sodium In Canned Beans). This way YOU can determine how salty your snack should be.
Other great toppings for chickpeas include:
Honey and cinnamon
Cumin and chili powder
Garlic and rosemary
Do not be afraid to experiment! Chickpeas are a canvas on which you can paint your favorite flavors.
But, smoky roasted chickpeas are the best. I can't tell you exactly why – but they are. Maybe it is because I like everything to be a bit burnt – like a soup I made last week and forgot to turn off.
Be careful with the cooking time on this recipe. If you pull them out of the oven too soon, you end up with a gummy texture – too late and they turn black (and smoky but not the good kind).
Another thing to be aware of is that the chickpeas tend to end up all over your oven. They "pop" as they cook. I have not found a way to control them - ha! - so I sweep them out of the bottom of the oven after the oven cools. It is a bit of pain but not that big of a deal.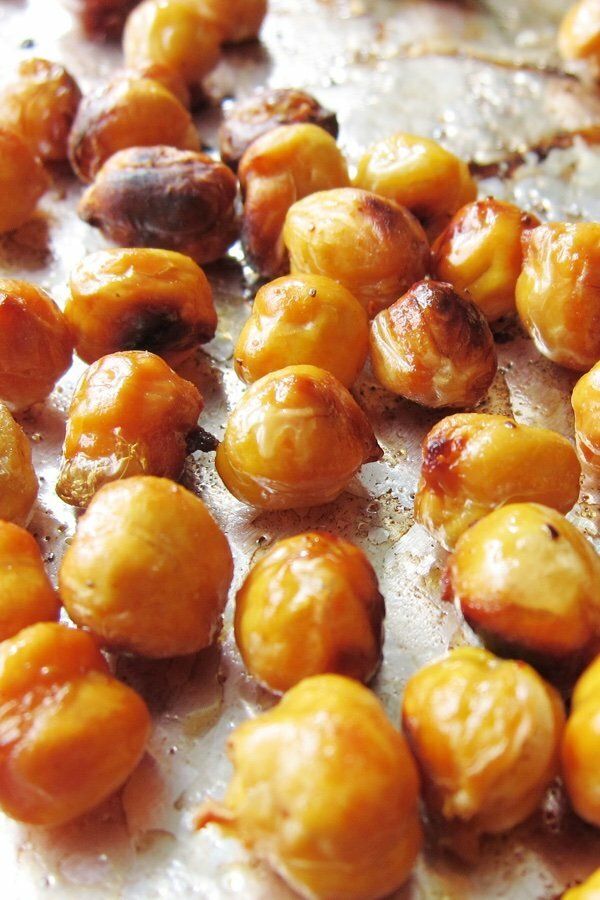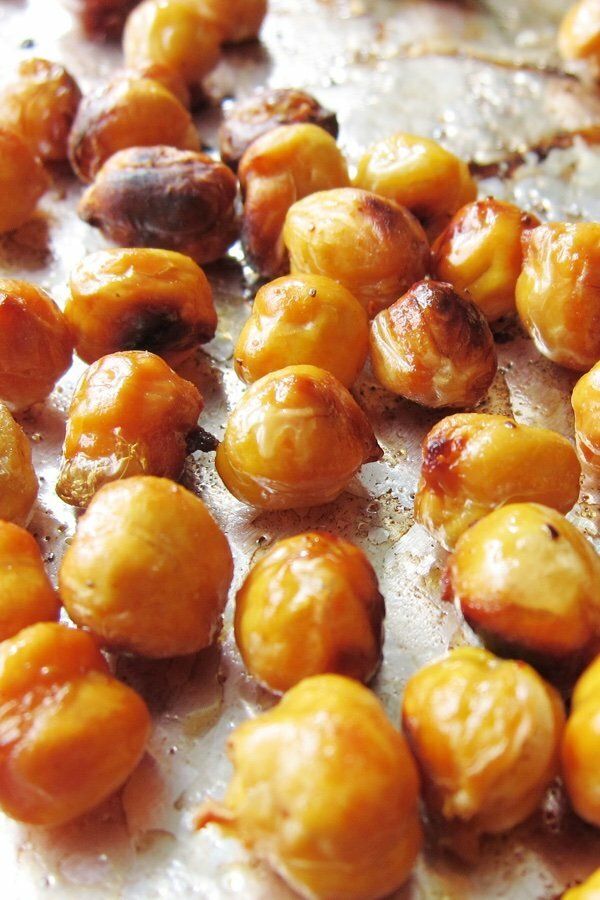 Smoky Roasted Chickpeas Recipe
Makes 4 servings
Ingredients
1-15.5 ounce can chickpeas (garbanzo beans)
1 tablespoon olive oil
½ teaspoon smoked paprika

Instructions
Heat oven to 450 F and line a rimmed baking sheet with aluminum foil. Drain chickpeas, rinse, and put them in a bowl. Mix oil, paprika, salt and pepper (to taste) with chickpeas and spread them on baking sheet.
Put them in the oven. After 15 minutes shake the pan to ensure that the chickpeas brown evenly. Roast another 10-15 minutes until brown and crunchy. Watch carefully to ensure you don't burn them. Enjoy warm or at room temperature.
Nutrition Facts
For one half cup serving = 161 calories, 4.7 g fat, 0.5 saturated fat, 25.0 g carbohydrates, 0 g sugar, 5.5 g protein, 4.9 g fiber, 329 mg sodium, 4 SmartPts
Points values are calculated by Snack Girl and are provided for information only. See all Snack Girl Recipes
Other posts you might like:
---

I like coming up with recipes that my kids can make....
---

You can make a crunchy, tasty, and healthy alternative to potato chips....
---
---
Get Free Email Updates! Yes please!
---