Snack Girl on Dr. Oz
I am appearing on the Dr. Oz show this week as a guest. No, I did not photoshop myself in the above photo.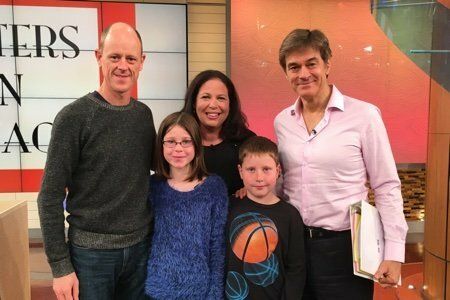 The episode will air on Thursday, December 10th and the promotional video below actually has me in it (I am in the blue dress)!
Check it out: Dr. Oz and Snack Girl, Thursday, December 10th.
Dr. Oz was sweet enough to offer to be in a photo with my family. You see my husband, Matt, and my son, Alex, and daughter, Ruby above. We all went to NYC to tape the episode a couple of weeks ago.
I was featured because of my apple peeling prowess and it was SO much fun. I can tell you that being on national television is crazy. The entire atmosphere feels like barely controlled chaos.
I was thrilled to be in a segment about a healthy food (apples) and I hope that my appearance brings smiles to peoples faces during this stressful season.
My interaction with Dr. Oz was only a few minutes, but in that time he did seem as genuine as he appears on TV.
I hope you will get a chance to watch it and I PROMISE it will make you giggle.