Big Snack Girl Announcement
Snack Girl has been hiding something. I didn't want to share until now.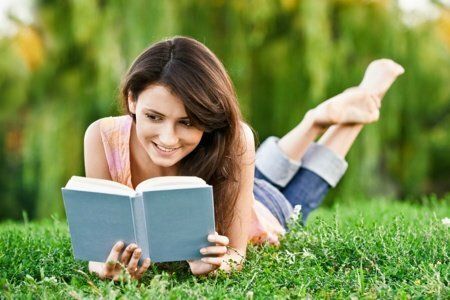 I wish it was a big surprise like, "Look under your computer or mobile phone and you will find a key to a new Ford Taurus!"
Alas, dear readers, I am not as famous as Oprah. My surprise is smaller. While you all were working on getting healthy, I have been sitting on my behind writing a book (about getting healthy) - you can buy it here: Snack Girl To The Rescue!.
Snack Girl To The Rescue!: a real-life guide to losing weight and getting healthy with 100 recipes under 400 calories will be published by Harmony (an imprint of Random House) and you can have one on April 15, 2014. The beautiful girl above isn't reading MY book (but she will love it once she gets it).
Why did I write a book?
The answer is that it has been a dream of mine to write one. Books are very different from websites because they have a beginning, middle, and (most importantly) an end. You can tell a story with many pages (288) instead of 200-400 words per day.
My goal was to write about my journey to healthy - fill it with stories, advice, fun, ideas, recipes, and facts to help you get there too. My editor says the book is like having a 3 hour conversation with Snack Girl versus a 3 minute chat on Snack-Girl.com.
The other powerful thing about a book is that it is not a solo enterprise. I had an editor, multiple recipe testers, copy editors, proofreaders, cover and interior designers, and all sorts of people that I don't even know about helping me. Frankly, I loved the support and the book is much better than anything I could produce by myself because of it.
What is in the book?
It has two parts – the first section is devoted to encouragement and guidance on such subjects as emotional eating, exercise, everyday temptations, and food marketing.
The second section is recipes. There are 100 recipes that I developed and all the nutrition information is included. Weight Watchers Points Plus values are not included because of copyright issues, BUT you can calculate the PP on your own.
The recipes were tested by home cooks - many of whom are on Weight Watchers or have been on Weight Watchers. My testers, all of them friends, helped me ensure that the recipes work. My editor was a cookbook editor for over 20 years so that helped too.
I included the "Greatest Hits" of Snack-Girl.com and developed over 50 recipes exclusive to the book (AKA new!).
Should I buy the book?
I think that you should, but I am biased since I wrote it. Here is one review (I sent out some copies to readers of this website to get feedback).
Vickie K. Leesburg, VA:
At last….under one cover, Snack Girl covers it ALL!! She provides a no-nonsense overview of healthy eating while encouraging readers that they can absolutely do this. Brutally honest, direct AND funny.... my husband wondered why I laughed out loud as I read the book. Lisa delivers specific tips on how to begin with "baby steps" towards a healthier, happier YOU!! This book really delivers and at the same time encourages and guides you on slimming down and having a healthier relationship with food :) The recipes are YUMMY and I am inspired now....to cook and move towards developing a healthier, happier, SEXIER me!! Thanks much!
As you can see, Vickie liked it.
Where do I get this awesome book?
I am so glad that you asked! You can buy it right now by clicking here: Snack Girl To The Rescue.
I have put together a promotion so if you buy it before it goes on sale in April you get:
An EXCLUSIVE PDF containing five recipes that are not in the book or on Snack Girl (plug in your order confirmation and e-mail).
A snack pack mailed to you with a cool bookmark, coupons, and products from Snack Girl sponsors (while supplies last).
Take a look here to learn more: Snack Girl To The Rescue.
Please ask any questions you may have about the Snack Girl book in the comment section and I will do my best to answer them.