Snack Girl Weighs In and Sets Goals
There is nothing more fun then stepping on a scale. Woo hoo!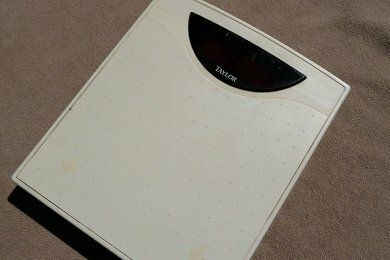 Okay, so I just want to say - THANK YOU! - to everyone who is going to join me on this challenge. I had no idea so many of you were going to sign up. I am VERY excited.
---
The Start
177 pounds
42 inch waist
---
I measured my waist (choosing to use my belly button as a marker) because I may get healthier and still not make it to 167 pounds by July 31st. Muscle weighs twice as much as fat.
On the Biggest Loser, people get slimmer and fitter and stop losing weight. It is a shame that they get penalized for that.
What I do know about major changes is that different things work for different people. For example, my mother swears by Weight Watchers. I tried it and got SO obsessed with what I was eating that I ate more!
So what is going to do for you this week? This is what I am going to do for me:
Keep a food journal
No beer except for Friday and Saturday (this may kill me)
One serious exercise class (I'm trying a one this week to see if I like it). One long walk and one date with Jillian Michael's Shred DVD
One breakfast that includes vegetables
My goal is to get to 167 pounds by July 31, 2010.
Please share your challenge and route for success this week.