A Fun Evening With Snack Girl
Yes, I have been called fun. Some might say "hilarious".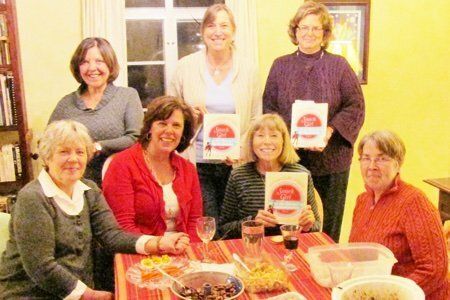 I have been out and about talking to people about their struggles with healthy eating and I must say – I enjoy it.
Last year, I had the pleasure of talking with the "Not About the Book Club" (excellent women above) via Skype and the worst part was that they made recipes from my book – and I couldn't taste them. Argh!
We talked about all sorts of things including:
Favorite healthy recipes
Struggles with our partners
How getting older affects our weight
Getting children to cut down on junk food
I hope that I was helpful and I know we all enjoyed working and sharing our food troubles.
If you have a group of people that gets together – a club (book, church, women, dog walking….) – it would be an honor to talk with you.
My motivation is to support and inspire those who are attempting a healthier path. Here is a little video of my style and message:
The fee for my appearance is ZERO - it would be nice if you bought my book.
I can be reached at lisa@snack-girl.com and YES! I want to hear from you. I live in Massachusetts and am happy to travel if you are near me.
---
$17.99 $12.27 Buy on Amazon.com
As an Amazon Associate, I earn from qualifying purchases.
---