Greatist Names Snack Girl A Top 100 Health Influencer
Today's post was going to be about this delicious, natural, and low sodium beef jerky that I discovered. Then, I changed my mind.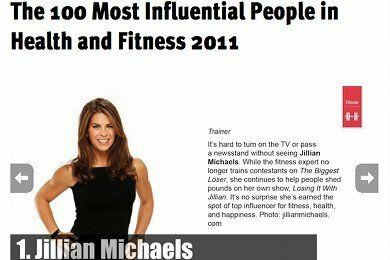 (sorry beef jerky enthusiasts)
Instead, I am going to talk about ME - your fearless leader Snack Girl. Today, a website called Greatist named Snack Girl #44 of The 100 Most Influential People in Health and Fitness 2011 see: Greatist Top 100 List.
I am very honored to be included on this list because so many of the people that are influential to ME are featured. So, I thought I would take today to celebrate Snack Girl's success and talk about who inspires me.
My numero uno inspiration is:
YOU - the person reading this! YOU inspire me every day to sit here and develop recipes, content, and features that will help you in your "self health" journey.
And, every day someone sends me an e-mail like this one from Laura:
I just wanted to let you know that I think your site is fabulous and that the ideas, recipes and information are right on because they are practical and just plain REALISTIC!
Thanks, Laura!
And, now in no particular order, I am going to share some of the influential people that are on the Greatist Top 100 List. If you haven't yet "met" any of them, you should check them out to see if what they offer is helpful to you.
Michael Pollan (#20) has written a bunch of books about how our food is produced. His work has spurred a movement of eating fresh fruits and vegetables and his book "Omnivore's Dilemma" is a must read for anyone who wants to eat healthier.
Dave Zinczenko (#19) woke me up to the amount of calories in a bagel with cream cheese (more than I want to reveal). His "Eat This Not That" series of books have helped many people make healthy choices when they are at fast food restaurants.
Jillian Michaels (#1) convinced me to get off my couch. Seriously. If you look in my closet there are 10 of her DVDs and I use them almost every day to get in better shape. I find her "no excuses" attitude motivational and her workouts to be challenging. She cracks me up!
Brain Wansink (#86) wrote a great book called "Mindless Eating: Why We Eat More than We Think" and changed my view of portion sizes. I actually hung out with Brian for a day and he is kind and funny. He has been doing important research on school lunch lines to help school cafeterias promote better nutrition.
Jamie Oliver (#3) is a British chef that created a show called Jamie Oliver's Food Revolution dedicated to improving lunchrooms across the country. His persistence is legendary and I think of him often when I think everything is hopeless. I also love his cookbook "Jamie's Food Revolution: Rediscover How To Cook Simple, Delicious, Affordable Meals".
Finally, I am influenced by books about people who start their own businesses and become successful (for example I am currently reading the biography of Steve Jobs). They remind me of how much hard work I will have to put in to be NUMBER ONE on the list of Influential People - I want everyone to get the message about how easy healthy food can be!
Please share the influential people that have helped you get healthier!
---
$18.00 $10.59 Buy on Amazon.com
As an Amazon Associate I earn from qualifying purchases.
---
$14.98 $9.99 Buy on Amazon.com
---