A Get Movin' Playlist from Snack Girl
One night, after the kids had gone to sleep, I found myself transfixed by my computer and all the music that I could purchase.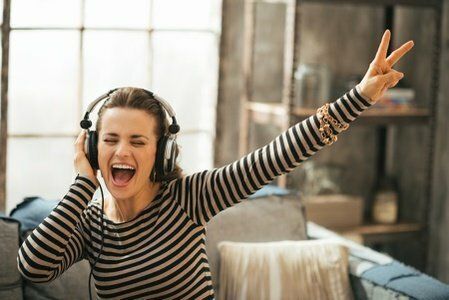 When I was a teenager, I used to wait by the radio and tape the songs that I liked to make my playlist AKA mix tape. I didn't want to buy a WHOLE ALBUM to get one song so I sat there hoping that my favorite song would play (which inevitable it would).
My 8 year old inspired me because he created a playlist on his iPad mini. I decided (since he did it!) to figure out how to create one (looked it up on Youtube) and now I am walking around with my headphones on and pretending that I can't hear my children.
If you see me around town, please do not interrupt my booty shaking down the sidewalk.
I can't get over how fun it is to buy one song and make my own album of music with the click of a button. The benefits far out weight the negatives (such as hours on the computer or dollars spent). In my hand, I carry my own personal soundtrack that can motivate and inspire.
My 45-year-old white woman playlist has taken hours to compose and it isn't very original. I have your standard angry woman songs and groovin' pop songs. I am VERY curious about what other music people put on their playlists so I thought I would share mine and hope some of you would share yours.
I use this playlist when I exercise and I hardly know my feet are moving. Seriously!
Runaway Baby – Bruno Mars
Rolling in the Deep – Adele
Since U Been Gone – Kelly Clarkson
I Gotta Feeling – The Black Eyed Peas
Hall of Fame – The Script
Good Feeling – Flo Rida
Another One Bites the Dust – Queen
Uptown Funk – Mark Ronson
We Found Love – Rihanna
Californication – Red Hot Chili Peppers
Call Me – Blondie
Lose Yourself – Eminem
Please share your favorite exercise tunes!