Snack Girl Gets A New Look
Don't click off!! This is still the same website that you have grown to love (or just tolerate).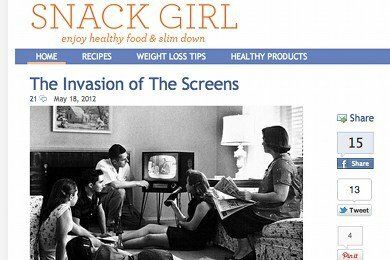 Here at Snack Girl, we are committed to making this a place that you want to visit every day. After some soul searching (and some yelling), we have redesigned our website to look fresher, cleaner, and more hip.
What did we change?
We took down the cartoon lady with the apple, and put me up at the top of the page so that people who are new to the site would know that a living breathing person created it.
We changed the menu bar at the top of the page to better reflect the content of the site.
Fonts, colors, share bar that moves, etc. - there is a whole bunch of design changes that should make it easier for you to read and use the site.
This is our first day of our new design, and we are going to continue to work on it to make it the best functioning and most thrilling healthy eating site on the web. Take that Dr. Oz!
In addition to the new web design, Snack Girl herself went on a local TV show called Mass Appeal to talk about asparagus. I live in Massachusetts so Mass Appeal reflects the local nature of the show. I have never been on TV before and it was terrifying.
If you decide to watch it - you will have to put up with a cheesy local ad before you get to me (trying not to throw up). Here is the link if you are interested in seeing the LIVE Snack Girl AKA Lisa:
Mass Appeal Snack Girl Appearance
What do you think? Do you have any suggestions? If you have a minute, please be constructive and tell us what we missed (or what you like).
---
Other posts you might like:
---

Snack Girl is celebrating an anniversary today. THREE whole years of writing about healthy snacks...
---