Fast Snacks With Two Ingredients
Do you ever get into a snack rut? Hey, even Snack Girl finds herself eating the same thing over and over again.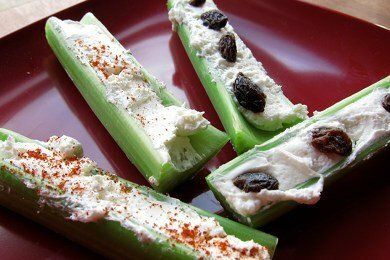 I received an e-mail from Brendan, and thought I would try to help him out.
From Brendan:
Really enjoying your blog! As a man who craves a snack in the middle of the afternoon (I'm an elementary-school teacher here in Mass), would you consider soliciting ideas for 2 ingredient quick-snack combos? Something like apples/peanut butter or even pickle spears wrapped in turkey slices. There must be some fun combinations I've never even imagined.
As a woman, I can tell you that I also crave a mid-afternoon snack. At around 3 PM, my head starts to hit my desk as I swoon from exhaustion (because sitting here and typing is SO taxing). I cannot imagine what it is like to attempt to teach a room full of elementary age students without a quick snack. Hang in there, Brendan.
I tried to imagine how little time you have if you teach kids for a snack. Also, I thought that Brendan probably wouldn't have a stove, blender, or toaster to use to make it. These snacks are as simple as I can get. I started with Brendan's ideas since they rock.
Apple slices and peanut butter
Turkey slice wrapped around a pickle
Hummus and any raw veggie (carrots, celery, broccoli)
Celery and whipped cream cheese or peanut butter
Peanuts and raisins
Edamame and salt
Banana mashed on whole wheat tortilla
Baby Bell cheese and whole wheat crackers
Cottage cheese and raisins
Avocado half and spoon
Strawberries and square of dark chocolate
Rice cake and peanut butter (or almond butter)
Cheese stick and apple slices
Greek yogurt and chopped walnuts
Cherry tomatoes and sliced turkey
Dried apricots and cube of cheddar cheese
Hard boiled egg with freshly ground pepper
Cantaloupe chunks and ham slices
Please help Brendan with his snack problem. What are your favorite two ingredient snacks?
---
Other posts you might like:
---

Summer is coming to a screaming halt for families all over the country. Did you notice the advertisements for school supplies everywhere?....
---

Snack Girl gets asked all the time for low carb snacks and high protein snacks....
---