Sneaky Zucchini Lasagna
Lasagna is one of those foods that top favorite foods lists.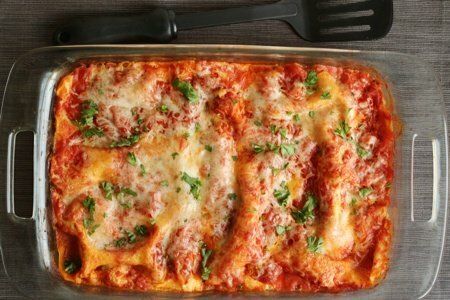 My son, not unlike Garfield, hasn't met a lasagna he doesn't like.
When I went to work on Snack Girl to the Rescue!, I knew it was time to update my lasagna recipe –but what to do? My first idea was to drop the noodles and use zucchini instead since it is much lower in carbohydrates and calories.
Guess what I got?
I made a lovely side dish of cheesy zucchini but NOONE (especially Alex) was tricked by the lack of noodles. "Mom, where is the lasagna? This is yucky."
I went back to the drawing board (or in my case the kitchen counter) and designed a lasagna without meat and one layer of zucchini. Miraculously, my son didn't notice the zucchini and I had a hit on my hands.
This isn't going to win a "healthiest casserole" award but it is an improvement over the calorie bomb that is normal lasagna. I make two of these at a time and freeze one for a later meal.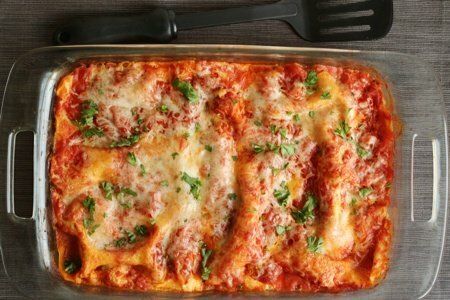 Sneaky Zucchini Lasagna
reprinted from Snack Girl to the Rescue!
Serves 8, 1 ¼ cups per serving
Ingredients
1 (15-ounce) container part-skim ricotta cheese
½ cup grated Parmesan cheese
1 large egg
1 (25-ounce) jar tomato sauce, no cheese or sugar added (such as marinara sauce)
1 (14.5-ounce) can diced fire- roasted tomatoes with juice
1 large zucchini, sliced lengthwise into 7 or 8 slices
6 no-boil lasagna noodles
1 cup grated mozzarella cheese

Instructions
Preheat the oven to 375°F degrees.
Mix the ricotta, Parmesan, and egg in a small bowl. In another bowl, combine the tomato sauce and diced tomatoes.
Pour 1 cup of the tomato mixture into a 9 × 13 × 2-inch casserole. Layer all of the zucchini slices over the sauce.
Dollop half the ricotta mixture over the zucchini and top with another cup of the tomato mixture. Cover with 3 pasta sheets and spread with the rest of the ricotta mixture. Add 1 cup sauce and top with the remaining 3 pasta sheets. Top with the rest of the sauce and cover with grated mozzarella.
Cover with foil and bake for 40 minutes. Remove the foil and bake for another 10 minutes to finish melting the cheese. After taking the lasagna out of the oven, let it sit for 5 to 10 minutes to firm up.
Nutrition Facts
254 calories, 10.8 g fat, 5.7 g saturated fat, 24.3 g carbohydrates, 6.3 g sugar, 16.6 g protein, 2.5 g fiber, 644 mg sodium, 7 Points+
Points values are calculated by Snack Girl and are provided for information only. See all Snack Girl Recipes
---
$17.99 $12.27 Buy on Amazon.com
As an Amazon Associate, I earn from qualifying purchases.
---
---
Get Free Email Updates! Yes please!
---