Soup for Syria: Recipes to Celebrate our Shared Humanity
Sometimes you find a book that fulfills many purposes. This one is pretty special.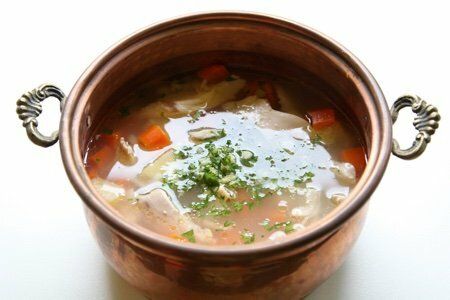 This book can be a gift, a resource for cooking inspiration, and a source of money for the more than 4 million refugees of the Syrian civil war. I do tend to stay from politics but I believe this crisis transcends whatever strategy our government has taken (or hasn't taken) to stop the flow of refugees out of Syria.
This book has gorgeous photos of soups and enjoyable photographs of smiling Syrian children and adult refugees living in Lebanon. Some have called it a coffee table book, but I use it to make wholesome flavorful soups.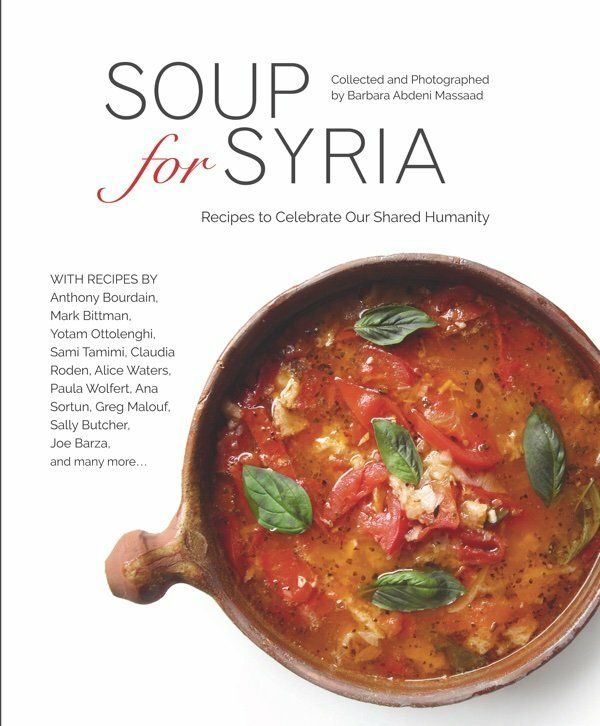 The contributors include exciting chefs and cookbook authors such as: Anthony Bourdain, Alice Waters, Paula Wolfert, Claudia Roden, Chef Greg Maalouf, Chef Alexis Coquelet, Chef Chris Borunda, Chef Alexandra Stratou, Necibe Dogru, Aglaia Kremenzi, and many others.
The recipes come from all over the world and include easy-to-follow directions, easy-to-find ingredients, and the recipes are pretty healthy incorporating lots of vegetables (artichokes, zucchini, asparagus…).
All the profits from the sale of this book will go to the UNHCR – The UN Refugee Agency. You can buy the book directly from Soup for Syria or from Amazon below.
I have included the link to the book below to purchase on Amazon.com. I will donate any affiliate profit from the purchase of this book to UNHCR – The UN Refugee Agency.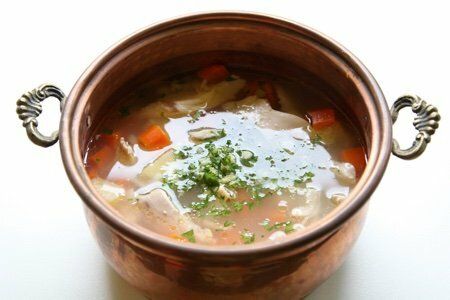 Chicken Soup
Reprinted with permission from Soup for Syria: Recipes to Celebrate Our Shared Humanity Collected and Photographed by Barbara Massaad Published by Interlink Books, $30.00 hardcover
SERVES 6-8

Ingredients
3 chicken legs, fat removed
1 large onion, roughly chopped
½ teaspoon cinnamon
½ teaspoon allspice
Salt, to taste
2 zucchinis, finely chopped
2 carrots, finely chopped
1 tomato, finely chopped
4–5 tablespoons broken vermicelli
Juice of 1–2 lemons
1 small bunch parsley, roughly chopped

Instructions
Place the chicken in a large pot with 8 cups (2 l) water. Bring to a boil over medium-high heat, skimming off any foam that rises to the surface. Reduce the heat to simmer, and add the onion, cinnamon, allspice, and salt. Simmer gently until chicken is cooked, about 45 minutes. Continue to skim off the foam occasionally.
Lift the chicken from the broth and set aside to cool. Remove the bone, cartilage, and skin from the chicken and discard. Separate the meat into small pieces.
Add the chopped vegetables to the broth and cook until tender, about 25 minutes. Add the chicken pieces, vermicelli, and lemon juice. Adjust the seasoning and simmer for a few more minutes until the vermicelli is cooked al dente.
Serve steaming hot and topped with chopped parsley.
Nutrition Facts
"It was a wonderful opportunity for me to be part of this amazing project. I enjoyed sharing my family's soup recipes. What a blessing it was for me and my daughter, Maya, to be able to participate in such a worthy cause and to meet such amazing people."
Helena Zakharia
Points values are calculated by Snack Girl and are provided for information only. See all Snack Girl Recipes
---
$30.00 $15.66 Buy on Amazon.com
As an Amazon Associate, I earn from qualifying purchases.
---
---
Get Free Email Updates! Yes please!
---