Turn Dull Beans Into A Potato Chip Replacement
Yesterday, we featured canned beans in a sneaky way. Today, they come out behind the curtain.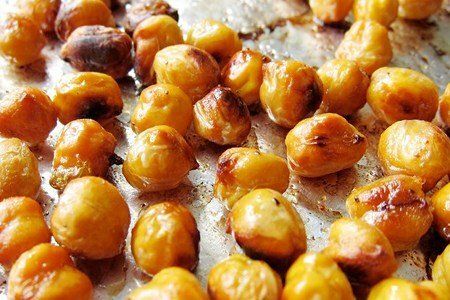 I was recently asked about my pantry items. None of you are getting a look into my pantry because it is a mess. BUT, I will tell you that I have cans of beans always stashed in my cabinets.
Why? It takes a while to cook beans and sometimes I take the time to cook them in my slow cooker. Honestly, most of the time I grab a can off my shelf. If you didn't know, a slow cooker was originally a BEAN cooker - it is an excellent way to cook beans.
The downside of a cans of precooked beans is that there is lots of sodium and my friend Carole thinks it is important to rinse them. Since she is usually right, I am now going to rinse my beans to get off the salt.
It turns out that rinsing the beans for 30 seconds reduces the sodium by 20 percent (see How To Reduce The Sodium In Canned Beans).
These crunchy chickpeas are a healthy snack lovers dream because they are packed with fiber, protein, and 8% of your daily value of iron.
I'm always looking for snacks that are healthy, salty, and crunchy. I LOVE potato chips and they aren't easy to replace. Leave off the spice if you don't like spicy food. You can make a sweet version with a little sugar and cinnamon.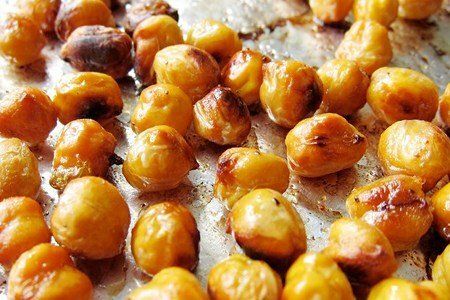 Spicy Roasted Chickpeas Recipe
(4 servings)
Ingredients
1-15.5 ounce can chickpeas (garbanzo beans)
1 tablespoon olive oil
½ teaspoon cayenne pepper
Instructions
Heat oven to 450 F and line a rimmed baking sheet with aluminum foil. Drain chickpeas, rinse, and put them in a bowl. Mix oil, salt, and pepper with chickpeas and spread them on baking sheet.
Put them in the oven. After 15 minutes shake the pan to ensure that the chickpeas brown evenly. Roast another 15 minutes until brown and crunchy. Enjoy warm or at room temperature.
Nutrition Facts
For one serving = 161 calories, 4.7 g fat, 25.0 g carbohydrates, 0 g sugar, 5.5 g protein, 4.9 g fiber, 329 mg sodium, 4 Points+
Points values are calculated by Snack Girl and are provided for information only. See all Snack Girl Recipes
Other posts you might like:
---

Vegans, avert your eyes. We are going to the land of chicken and you know you are eating an animal when you chomp into a wing....
---

These Laughing Cow Cheese wedges are an interesting take on cheese.....
---
---
Get Free Email Updates! Yes please!
---