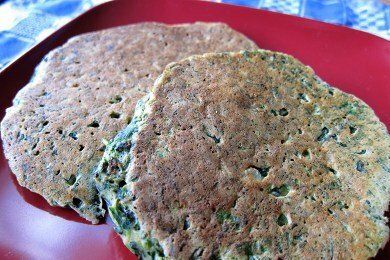 Spinach Healthycake Recipe

(makes 7 small pancakes)

Ingredients
1/2 pound frozen chopped spinach
3/4 cup whole grain flour (wheat, oat, barley, etc.)
1 tablespoon baking powder
1 egg
1 cup low-fat milk (or any level of fat milk you own)
non-stick spray
optional ingredients:
1 teaspoon cumin
1 teaspoon salt
3 scallions chopped

Instructions
Thaw spinach in microwave and then place in fine mesh sieve. Using the back of a spoon press out the water in the spinach.
Add dry ingredients to a large bowl and mix. Add egg and milk, mix until smooth and then stir in spinach. Add optional ingredients.
Heat a large fry pan over medium-high heat and spray with non-stick spray. Place a soup ladle full of batter on the pan and cook until the wet side of pancake bubbles (about 3 minutes). Flip and cook for another 2-3 minutes until brown.
Enjoy!
These pancakes are great for freezing and will keep in the fridge for a week.
Nutrition Facts
For one pancake using low-fat milk and zero added salt: 80 calories, 1.8 g fat, 13.8 g carbohydrates, 4.8 g protein, 2.5 g fiber, 53 mg sodium, 2 Points+
Points values are calculated by Snack Girl and are provided for information only. See all Snack Girl Recipes