How To Turn a Pancake Into A Healthycake
Pancakes are not known for their health benefits. Think of the fluffy, white, butter, and syrup confection that is probably the opposite of how we should start our day.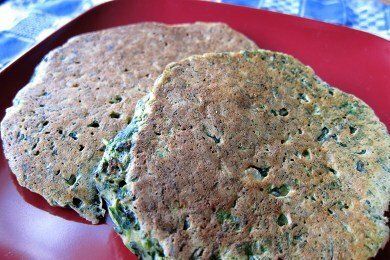 But, we love them so! They are handy at breakfast time because they cook quickly (as opposed to muffins) and they can be eaten on the run.
I decided to do something kinda revolutionary to the pancake and add one of the healthiest foods on the planet, spinach. You see, just one of THESE pancakes will get you 11% of your daily value of Iron, 64% of your Vitamin A, and 18% of your daily value of Calcium.
And, you will like them so much that you will eat TWO of these bad boys and double that nutritional hit. Take THAT multi-vitamin!
How do they taste?
I found that they were a bit bland all on their own, so I added cumin, scallions, and salt and made a savory pancake. You could go an entirely different direction and add some raisins and nuts for a sweeter pancake with more texture.
Make these for breakfast, lunch or dinner and just toss the leftovers (if you have any) in the fridge.
This is what the batter looks like after you mix everything together: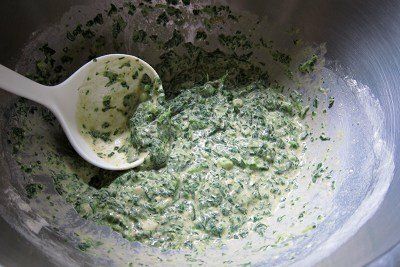 Do you see how it is just spinach added to pancake batter? It is a simple addition that makes a HUGE difference in the relative healthiness of this food.
For everyone who gives this a try, I am promising a free trip to Barbados via the internet :)
Have you ever mixed spinach into your pancake batter?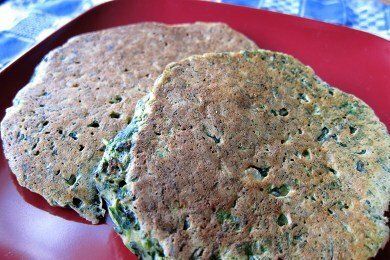 Spinach Healthycake Recipe

(makes 7 small pancakes)

Ingredients
1/2 pound frozen chopped spinach
3/4 cup whole grain flour (wheat, oat, barley, etc.)
1 tablespoon baking powder
1 egg
1 cup low-fat milk (or any level of fat milk you own)
non-stick spray
optional ingredients:
1 teaspoon cumin
1 teaspoon salt
3 scallions chopped

Instructions
Thaw spinach in microwave and then place in fine mesh sieve. Using the back of a spoon press out the water in the spinach.
Add dry ingredients to a large bowl and mix. Add egg and milk, mix until smooth and then stir in spinach. Add optional ingredients.
Heat a large fry pan over medium-high heat and spray with non-stick spray. Place a soup ladle full of batter on the pan and cook until the wet side of pancake bubbles (about 3 minutes). Flip and cook for another 2-3 minutes until brown.
Enjoy!
These pancakes are great for freezing and will keep in the fridge for a week.
Nutrition Facts
For one pancake using low-fat milk and zero added salt: 80 calories, 1.8 g fat, 13.8 g carbohydrates, 4.8 g protein, 2.5 g fiber, 53 mg sodium, 2 Points+
Points values are calculated by Snack Girl and are provided for information only. See all Snack Girl Recipes
Want to read about snacks?
A Lower Calorie Pistachio For Your Snack Consumption
A Lot Less Float For Your Boat (Awesome 53 Calorie Dessert)
Is Snacking Good For You?
Create A Better Snack With Carrots
---
Get Free Email Updates! Yes please!
---