Frozen Yogurt Bark for A Hot Day
Looking for a fun activity to keep children occupied? Get them to make some yogurt bark.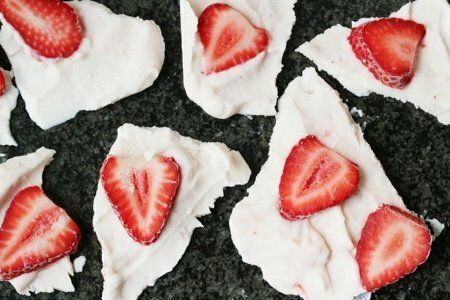 This is SO easy that my 8 year old can do it while I am outside on my lawn chair catching rays (or mowing the lawn most likely).
All you do is spread 2 five ounce containers of sweet Greek yogurt on a piece of parchment paper and add some fruit. See here: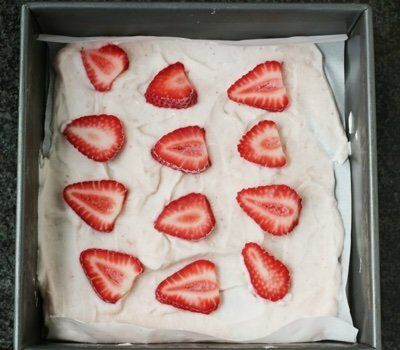 I was super boring and used strawberry yogurt and added strawberries. How did I get this job? I am sure that you could come up with something much more creative.
This should be eaten in a bowl because it melts fast – but it is almost like frozen yogurt and much more fun because you do-it-yourself.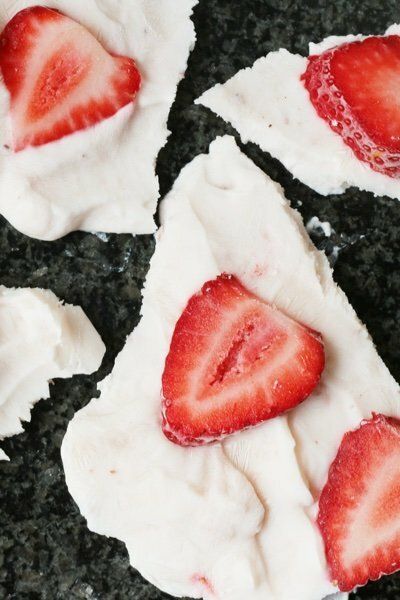 What combinations would you come up with?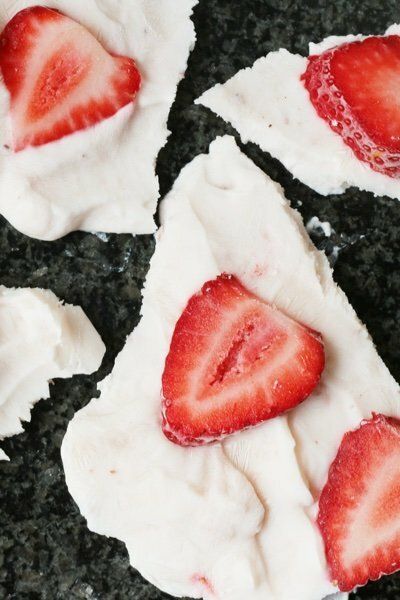 Strawberry Yogurt Bark
Makes 8 pieces
Ingredients
2 – 5 ounce containers of strawberry Greek yogurt (not 100 calories)
4 strawberries, sliced
Instructions
Spread yogurt in a 8-inch square baking pan on a slice of parchment paper. Place strawberry slices on top of yogurt. Freeze for 1 hour.
Nutrition Facts
One piece is 31 calories, 0.0 g fat, 0.0 g saturated fat, 4.9 g carbohydrates, 3.9 g sugar, 3.1 g protein, 0 g fiber, 16 mg sodium, 1 Points+
Points values are calculated by Snack Girl and are provided for information only. See all Snack Girl Recipes
Other posts you might like:
---

I am SO proud of myself. I made this beautiful bowl of strawberry frozen yogurt (and then I ate it)....
---

The title here is purposely misleading. I am just trying to get you to pay attention....
---
---
Get Free Email Updates! Yes please!
---