Strawberry Yogurt Cookies
Snack Girl knows you are all eating strawberries. The last batch I bought was incredible!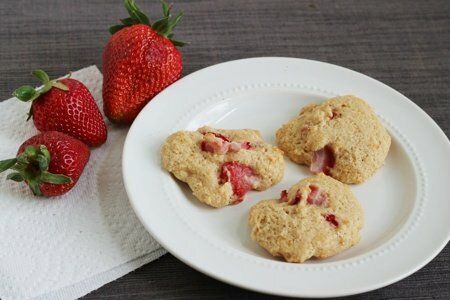 When I lived in San Francisco (and was significantly more wealthy than I am now), I bought organic strawberries for my two year old for an astronomical price. I made the mistake of letting him near the basket and before I knew it, they were gone and there was a little boy smeared with expensive strawberry juice.
I learned my lesson and I now hide the strawberries from my children ☺
These cookies are pretty much divine. I love the idea of strawberries in cookies because I love strawberries in pretty much everything. These will remind you of those jam stuffed cookies that you eat at the holidays.
I used Greek yogurt instead of butter and it works really well. The sourness of the yogurt is offset by the sweetness of the berries.
Give these a try with your next quart of strawberries (if you can keep someone from eating them all).
Are you eating strawberries now?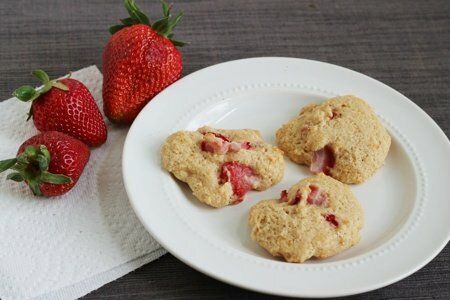 Strawberry Yogurt Cookie Recipe

Makes 18 cookies

Ingredients
1 cup white whole wheat flour (such as King Arthur's brand)
1 teaspoon baking powder
¼ teaspoon baking soda
¼ teaspoon salt
1/2 cup sugar
2/3 cup Greek yogurt, non-fat (or whatever you have on hand)
1 egg white, lightly beaten
1 teaspoon vanilla extract
1 cup fresh strawberries, hulled and sliced into small pieces

Instructions
Heat oven to 375 F. Line a baking sheet with parchment paper. In a large bowl, mix flour, baking powder, baking soda, salt, and sugar. Add yogurt, egg, and vanilla and mix until combined. Fold in strawberries and drop dollops of batter, about 2 tablespoons in size, onto parchment paper about 1 inch apart.
Bake for 12-15 minutes until the edges of the cookies start to turn brown.
Nutrition Facts
For one cookie = 52 calories, 0.1 g fat, 0.0 g saturated fat, 11.3 g carbohydrates, 6.3 g sugar, 2.0 g protein, 0.8 g fiber, 54 mg sodium, 1 Points+
Points values are calculated by Snack Girl and are provided for information only. See all Snack Girl Recipes
---
Get Free Email Updates! Yes please!
---