A Stress-Free Holiday Tip You Won't See on Martha Stewart
This is my photo of Santa at the end of the Macy's Thanksgiving Day parade. What is he so happy about?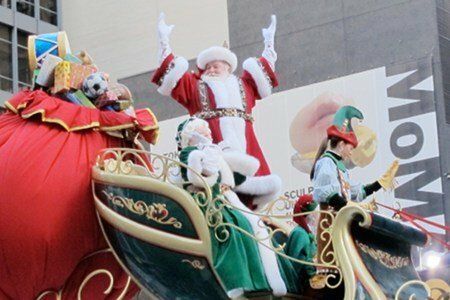 He seems to be swinging up his arms in jubilation at the suffering he has wrought with opening the holiday season. Hey, Mr., you got elves to help you!! How about sending some of those cuties over to my house? Or, better yet, a masseuse named Sven?
His presence indicates that it is time to rev our engines. Vroooom. I know that your list is as long as mine is. On top of our regular obligations, we have all the other fun stuff. Cookie making, holiday card sending, present wrapping, post office line standing.....bah humbug.
I am going to make life easier for you with my tip for the healthiest holiday EVER.
Instead of a pine tree, decorate a pineapple for Christmas. Yes, I am serious. On December 23rd, go out and buy yourself a nice pineapple and do this: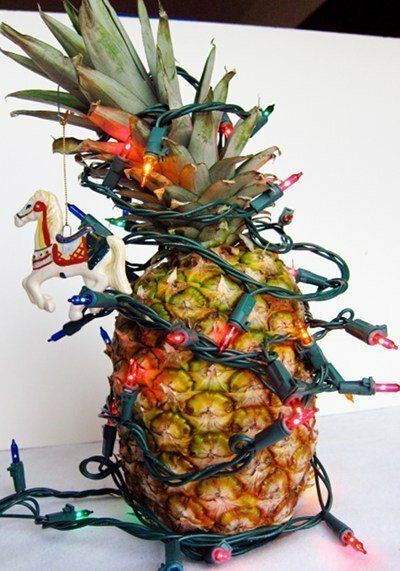 On December 25th, undo the lights and have yourself some fresh pineapple. Your Christmas pineapple serves two purposes, decoration and snack (not unlike those candy covered gingerbread houses).
I just saved you a bunch of money, time, and you get to feel good about your environmentally savvy choice.
:)
Actually, my Christmas pineapple is a symbol of letting go. Can't get to the cards this year? Breathe! The latest toy sold out at Toys-R-Us? Count to ten. Don't have time to decorate the tree? Buy a pineapple.
I am guilty of creating a vision of how I want to holidays to turn out. For example, I brought my children to NYC to see the big parade (hence the photo). At the end, my daughter informed me she liked it better on TV. Here I was, intending to give her the gift of the biggest holiday parade LIVE and she liked the small box version. Oh well.
What really matters is your attitude.
This year just smile at the overwhelming pile of stuff you are supposed to do - and just do the stuff that really matters to you and your friends and family.
Think pineapple.
How do you deal with holiday stress?
---
Other posts you might like:
---

The inclination to grab for food when you are stressed is completely understandable. Food calms you down and makes you feel good....
---

My dear husband left for 10 days yesterday on a well deserved trip. (That isn't actually of photo of him :)...
---