Stuffing From A Bag: Can You Improve It?
After making my own stuffing from scratch, I realized that my supermarket sells stuffing in bags and boxes.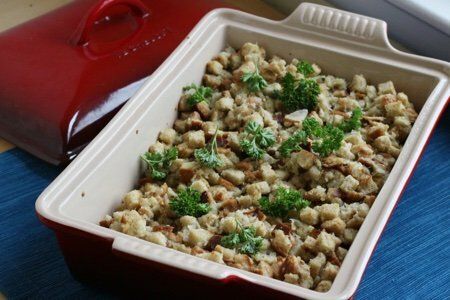 Hello!
I am always looking for a shortcut that makes life easier and I thought, "Hey, stuffing is dried bread and spices. Maybe a packaged mix would be a good thing."
I stood in the stuffing aisle and began my incredibly scientific research of picking up and putting down boxes. Hmmmm. What did I think?
The sodium amounts per serving are OUT OF CONTROL. The norm was 500 mg per serving. How am I going to taste the turkey with all that salt?
The one low sodium version had MSG and wasn't much lower in sodium.
The boxes and bags were inexpensive. I have no doubt that my homemade version is much more costly.
I bought the one that looked the best – Arnold Premium Stuffing Seasoned (400 mg sodium per serving) and decided that I could maybe improve it. In a shocker, the package wanted me to add 8 ounces of butter to the mix. I use about 4 ounces of olive oil in my stuffing.
I added sautéed onions and celery (and as you can see some parsley) to try to make it work and I cut the butter in half.
I thought this was OKAY. My Australian husband pronounced it inedible and asked me why I would serve something that tasted like soggy bread and call it stuffing. He went on and on about real food and how Americans are without a clue.
He HATED this stuffing.
I looked in Whole Foods and their packaged stuffing averaged 390 mg sodium per serving (not much better).
I say stick with homemade stuffing like my Vegan Stuffing.
Have you worked with store bought stuffing? How do you make it pop?
---
Other posts you might like:
---

Oh yeah. Starbucks is here with their holiday tradition of the MUST have drink...
---

Doesn't this look festive? Your guests will be impressed by your ingenuity (and less bowls to wash)...
---