Should You Avoid Fruit Because It's Full Of Sugar?
That lady up there isn't avoiding fruit. She has made a lovely sculpture to express her love.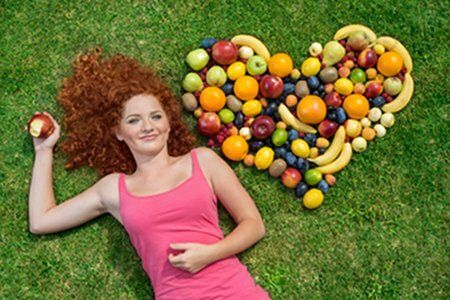 I'm sitting here with two pieces of fruit looking at me right now. They are my go-to snack to stop me from eating the cookies that are lurking behind me. A Snack Girl reader, Wendy, sent me a great question about fruit:
I am much more aware of sugar in the food I am choosing thanks to your blog...However, I am confused as to the sugar in fruit. Is this natural sugar ok?
I'm so happy I have made Wendy aware of sugar, but I don't want her to stop eating fruit. People have dismissed the health benefits of fruit because it has sugar and I need to stand up for fruit.
Carbohydrates have been slammed because of the high protein - low carb diets that people follow. I wrote my response to those programs here: Surprise! Carbohydrates Are Not Evil .
My perspective is that humans have been evolving with fruit and eating fruit for as long as there have been humans. This makes fruit one of those foods that we are adapted to eat to fuel all the systems in our body.
Take a look at cancer prevention as an example. The compounds that naturally occur in strawberries have been shown to stop the growth of cancer cells in test tubes (Strawberry Extracts Inhibit Growth of Human Cancer Cells In Vitro).
Can mashed up Twinkies do that?
I will happily eat my strawberries with 7 grams of sugar per cup and get all that cancer fighting goodness that my immune system can use.
My point is that you need to evaluate the food that the sugar is in. Over and over on this blog, I talk about watching out for sugar added by food manufacturers.
For example, when I talked about Craisins this week. They had added sugar and I didn't think most people realized it.
But, an apple with its 19 grams of sugar is another story. You are getting fiber, Vitamin C, iron, calcium, and a host of micronutrients that are necessary for your body to function properly. These micronutrients are trace minerals like zinc and chromium which aren't even listed on labels because we need such a small amount.
Since you need sugar to function, why not get your sugar from the source with all the other stuff you need? I believe it is the added sugar in processed foods that is making us fat and unhealthy not the sugar incorporated by a tree into an apple.
What is your take on fruit? Do you avoid it because of its sugar content?
---
Other posts you might like:
---

Carbohydrates have gotten a bad rep. They are the macronutrient that you don't want to meet in a dark alley (notice the crime tape in the above photo).
---

You see that sign up there? That, my friends, is an invitation....
---