The Ultimate Milkshake Makeover
Do I like smoothies more than milkshakes? Before yesterday, my answer would have been, "not really".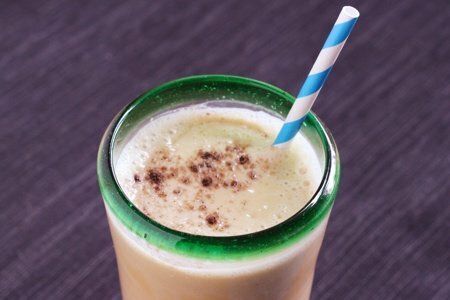 Smoothies, while good, are missing that thickness that comes from ice cream. Creamy, cold, thick, and (sadly) very high in calories, a vanilla milkshake is a rare treat.
Yesterday, I tried something new that I thought was going to turn out strangely. I put baked sweet potato in a smoothie. Why? Well, why not?
You get some serious nutritional bang for your buck with a sweet potato. This smoothie has 198% of your daily value of vitamin A, 25% of your daily value of calcium, and 13% of your daily value of calcium.
The best part is that this smoothie will remind you of ice cream. I have used tofu to make a lighter Wendy's Vanilla Frosty but I think the recipe below is much better.
If you don't have a baked sweet potato lying around, it is easy to make one. You can bake one in the oven at 350 F for an hour – be sure to prick the potato or you can wrap it in a paper towel (after pricking) and heat in your microwave for five minutes. Depending on the size, you may have to microwave for another five minutes to have it be cooked.
I use baked sweet potato in one of my favorite recipes in my book – Sweet Potato, Bean, and Corn Burger. Yum!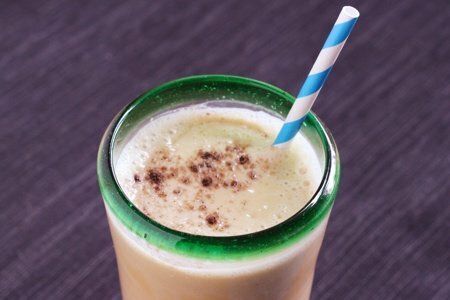 Sweet Potato Smoothie Recipe
Makes 2 cups, 1 cup per serving
Ingredients
½ cup sweet potato, cooked and mashed (skin removed)
½ large banana or 1 small banana
1 date, pitted
1 cup almond milk, unsweetened
dash of cinnamon, optional
Instructions
Put sweet potato, banana, date, and almond milk into a blender and blend until smooth.
Nutrition Facts
1 cup is 102 calories, 1.4 g fat, 0.0 g saturated fat, 21.8 g carbohydrates, 9.9 g sugar, 2.0 g protein, 3.6 g fiber, 108 mg sodium, 3 Points+
Points values are calculated by Snack Girl and are provided for information only. See all Snack Girl Recipes
Other posts you might like:
---

Snack Girl has had MANY readers tell her to try "green" smoothies. Well, before last Tuesday, I had one word for them - YUCK!...
---

Snack Girl is a bit obsessed with smoothies right now. Something about the weather heating up, makes me want to drink frothy drinks....
---
---
Get Free Email Updates! Yes please!
---