Have You Been Through These Doors Lately? A Surprise!
I spend a lot of my time shopping in big box stores for my family. Today, I went into Target to buy (wait for it) a new laundry basket.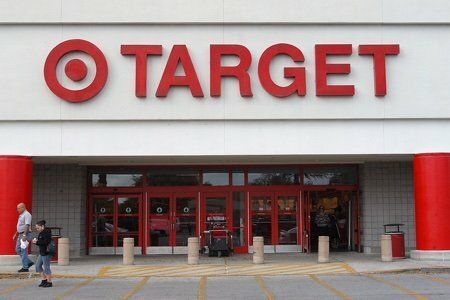 Boring… BUT, I found myself transfixed at the front of the store. There were pure white mannequins – some with heads and some without – wearing outfits.
Usually, that wouldn't cause me to stop in my tracks. But there was something different about them.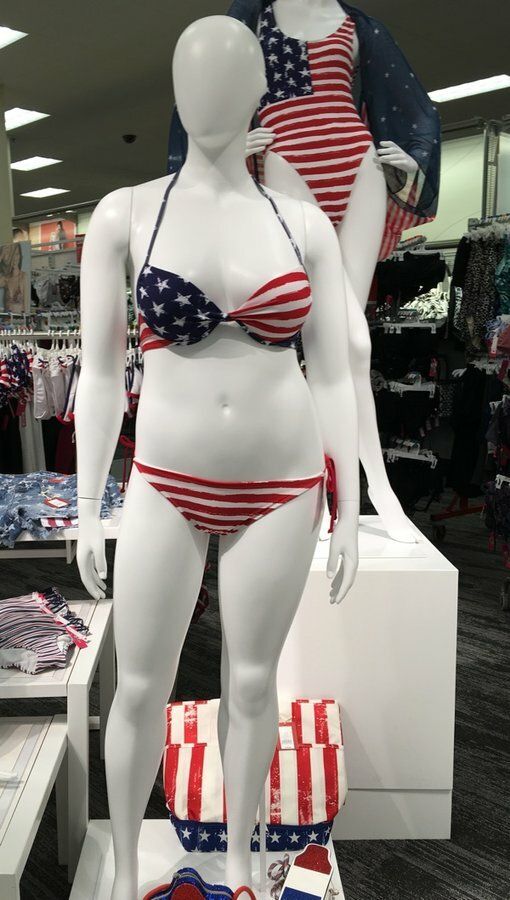 Wait a minute! She has some curves. Check that out! Is it possible that Target is recognizing that the super skinny body type is only ONE body type and there are others that should be shared and promoted?
This image was above the white bikini lady.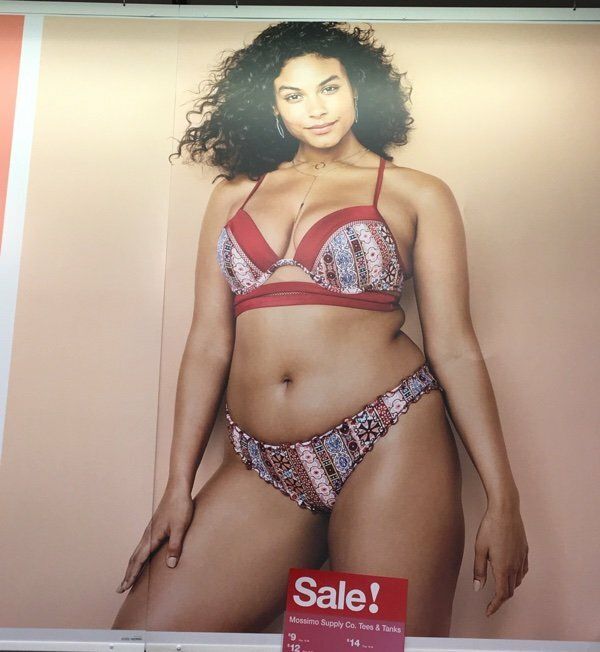 Yesss!!!! I put this image - me in my bikini – up years ago in the hopes that I would inspire others to feel good about themselves. She looks like she feels good about herself (and she is beautiful).
A store like Target can make a huge difference in how we view ourselves. As I wrote in The Hurtful Messages Our Daughters Can't Avoid – we are sent messages all the time about how we should look. These messages lack diversity - both in body shapes and races of people.
Check out these cute babes: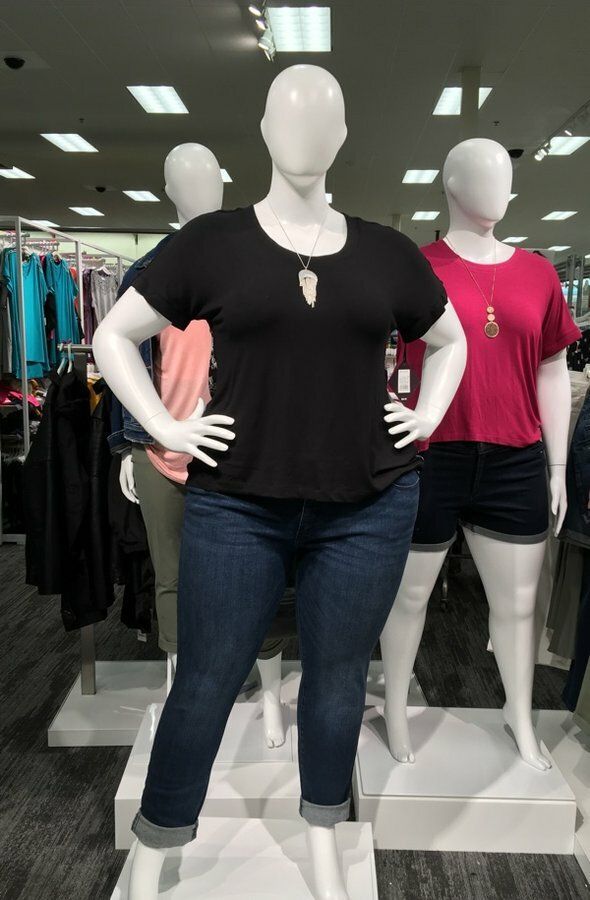 I am pretty sure I have that exact outfit – black t-shirt and capris. She is looking fierce (except for her lack of face and pure white coloring). Perhaps there was a sale on pure white plastic?
Here are some pajama ladies for contrast: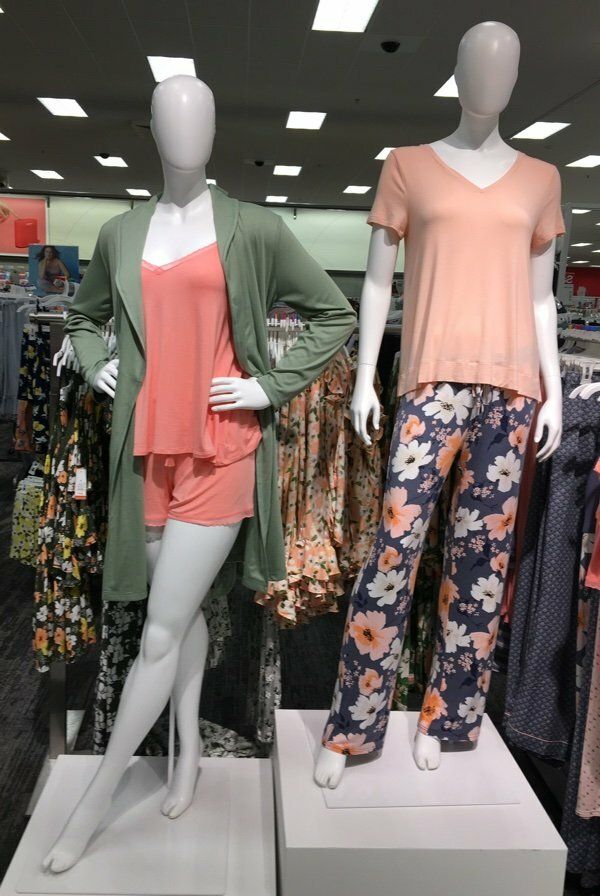 They are the mannequins we are used to seeing – skinny and tall – like super models.
Target isn't doing this to be "correct". They want to sell more clothes and someone at headquarters realized that women come in different shapes. How revolutionary!!
You can see yourself in those shapes and want to buy the clothes because of how they fit on the mannequin instead of wondering if the clothes are going to make it across your wide hips, over your booty, or be too tight around the chest.
And, if I had needed yet another pair of capris or a black t-shirt – they would have sold me.
Men, I guess, will also have to wait for different shaped models (and cuter clothes - I think this is ugly).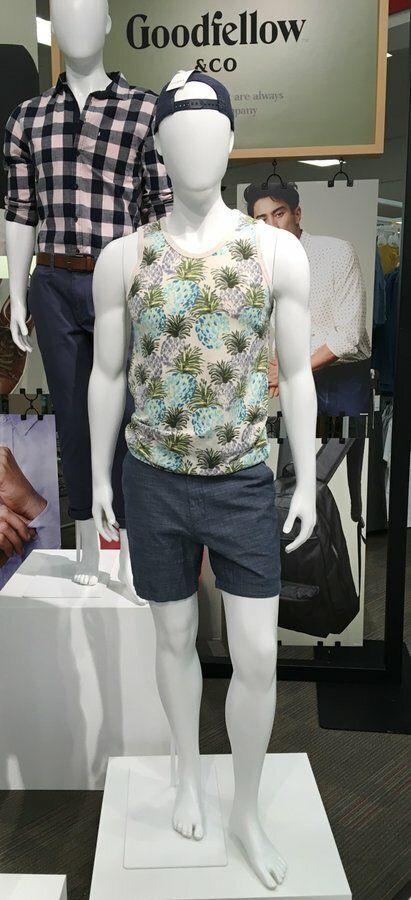 The only male mannequins were very muscular. I tried to talk to this one but I think he was busy.
Thank you, Target, for supporting us in our acceptance of ourselves.
Have you seen the new Target mannequins? What did you think?
---
Other posts you might like:
---

Have you taken a good luck at your body lately? How do you feel about it?...
---

My daughter grew 1 ½ inches in four months. She is 11 years old and I can't carry her around in a Baby Bjorn anymore....
---