More Asparagus Please!
This is the easiest time of year to be a blogger if you are into healthy eating.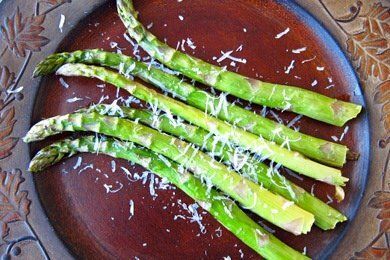 As I walk into the produce section, all my favorites are less expensive and fresher than any other time of year. Yes, I am a fan of asparagus and I make my entire family eat it.
My favorite way of cooking it is to roast it because it turns out sweet. Also, I don't have to watch it as I do other important things like chase the dog so I can get my sandal back.
There is nothing to fear about buying or cooking asparagus. A few tips:
Look for the thicker stalks - most chefs think they taste better
Use them the day you buy them - aging them in your fridge is not a good idea
Do not boil them - yuck!
All you have to do is snap off the blunt ends, toss them on a rimmed baking sheet with some olive oil, salt, and pepper and wait 15 minutes.
You can wrap asparagus in ham or prosciutto if you have it around for a nice party snack.
I add grated Parmesan cheese (just a little) to add a salty and cheesy element to the asparagus. Below, I have added a link to my favorite grater - having awesome tools makes cooking so much more fun.
Or skip the cheese and squeeze fresh lemon juice over the stalks.
If you have time, roast a couple bunches of asparagus and then keep it in your fridge for (you guessed it) snacking. Add them to salads or omelets to get more vegetables into your diet.
My kids eat these because we call them "trees" and they pretend they are dinosaurs. Hey - whatever works!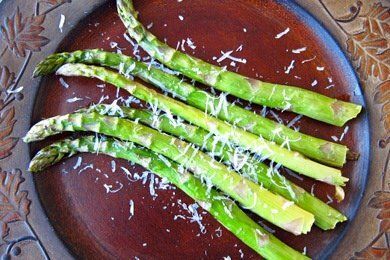 Roasted Asparagus Recipe
(4 servings)
Ingredients
1 bunch asparagus (approximately 1 pound)
1 tablespoon olive oil
salt and pepper to taste
grated parmesan cheese (optional)
lemon wedges (optional)
Instructions
Preheat oven to 400F. Line a rimmed baking sheet with aluminum foil (for easy clean-up). Snap the blunt ends of the asparagus and toss it with the olive oil, salt, and pepper. Cook for 15 minutes (or until desired tenderness). Add parmesan cheese or lemon wedges and serve immediately. OR store in fridge for up to a week.
Nutrition Facts
One serving without the cheese is 53 calories, 3.5 g fat, 4.4 g carbohydrates, 2.5 g protein, 2.4 g fiber, 2 mg sodium, 1 Points+
Points values are calculated by Snack Girl and are provided for information only. See all Snack Girl Recipes
currently unavailable Buy on Amazon.com
As an Amazon Associate I earn from qualifying purchases.
---
---
Get Free Email Updates! Yes please!
---