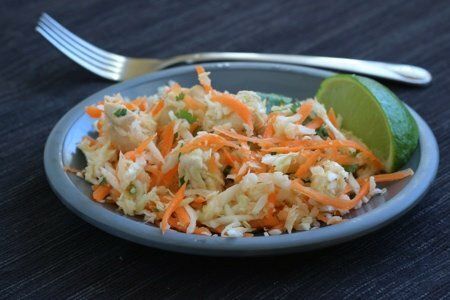 Thai Citrus Chicken Salad Recipe

Serves 1

Ingredients
1 teaspoon olive oil
1 clove garlic, minced
1 4-5 ounce boneless chicken breast, cubed
1 ½ cup cabbage, shredded
1 cup carrot, shredded
¼ cup cilantro chopped
1 lime wedge (optional)

Instructions
Dressing:
1 tablespoon fresh lime juice
1 tablespoon soy sauce
1 tablespoon fish sauce
1 teaspoon rice vinegar
1 teaspoon sugar

Heat the olive oil in a non-stick skillet on medium high. Add minced garlic and chicken and saute until chicken is cooked through (about 4 minutes).
In a large bowl, mix together cabbage, carrot, and cilantro. Add cooked chicken and garlic and toss.
In a small bowl combine lime juice, soy sauce, fish sauce, rice vinegar, and sugar. Measure out one tablespoon of dressing and drizzle on salad. Toss to combine flavors. Serve immediately.
Nutrition Facts
For salad without dressing: 245 calories, 7.9 g fat, 0.7 g saturated fat, 17.6 g carbohydrates, 8.6 g sugar, 26.6 g protein, 5.8 g fiber, 153 mg sodium, 6 Points+
For one tablespoon dressing: 9 calories, 0.0 g fat, 0.0 g saturated fat, 1.8 g carbohydrates, 1.3 g sugar, 0.5 g protein, 0 g fiber, 573 mg sodium, 0 Points+
Points values are calculated by Snack Girl and are provided for information only. See all Snack Girl Recipes