A New Take on Chicken Salad
Chicken salad is famous for blobs of mayonnaise and showing up at picnics.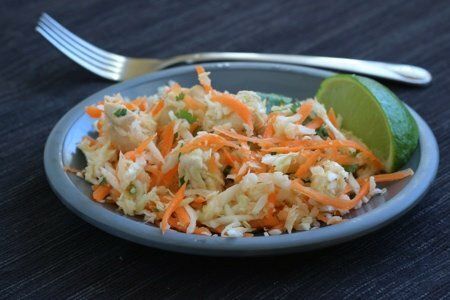 Snack Girl To The Rescue! features a blobless chicken salad that I make frequently because it is my favorite chicken salad (and I can make it in a flash).
But, the same old chicken salad can get dull. This recipe features cabbage, which is everywhere right now, fish sauce, and lime. Fish sauce is this wonderful stuff that smells like old socks.
You can find fish sauce in the "Asian" section of your supermarket next to the soy sauce. It is a dark brown liquid that is extracted from the fermentation of fish with sea salt. If you have tried Worcestershire sauce – then you have an idea of how it tastes.
The dressing has lime, fish sauce, soy sauce, vinegar, and sugar which give a sweet, sour, and salty flavor which is quite tasty. The key is not to use too much of it because at one tablespoon you have 573 milligrams of sodium which is quite high. I tried a bunch of ways to lower the grams of sodium, but it didn't work. Please share any ideas you might have.
You can cook a bunch of chicken breasts, shred your cabbage and carrots, and store the ingredients in the fridge ready to go before you pack your lunch. I would wait to chop the cilantro because it tends to dissolve and ruin things.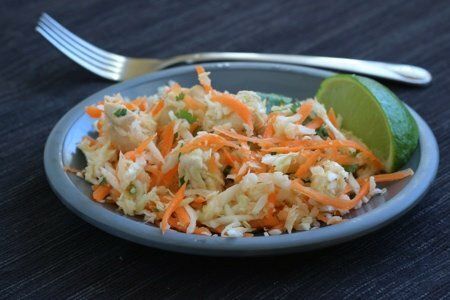 Thai Citrus Chicken Salad Recipe

Serves 1

Ingredients
1 teaspoon olive oil
1 clove garlic, minced
1 4-5 ounce boneless chicken breast, cubed
1 ½ cup cabbage, shredded
1 cup carrot, shredded
¼ cup cilantro chopped
1 lime wedge (optional)

Instructions
Dressing:
1 tablespoon fresh lime juice
1 tablespoon soy sauce
1 tablespoon fish sauce
1 teaspoon rice vinegar
1 teaspoon sugar

Heat the olive oil in a non-stick skillet on medium high. Add minced garlic and chicken and saute until chicken is cooked through (about 4 minutes).
In a large bowl, mix together cabbage, carrot, and cilantro. Add cooked chicken and garlic and toss.
In a small bowl combine lime juice, soy sauce, fish sauce, rice vinegar, and sugar. Measure out one tablespoon of dressing and drizzle on salad. Toss to combine flavors. Serve immediately.
Nutrition Facts
For salad without dressing: 245 calories, 7.9 g fat, 0.7 g saturated fat, 17.6 g carbohydrates, 8.6 g sugar, 26.6 g protein, 5.8 g fiber, 153 mg sodium, 6 Points+
For one tablespoon dressing: 9 calories, 0.0 g fat, 0.0 g saturated fat, 1.8 g carbohydrates, 1.3 g sugar, 0.5 g protein, 0 g fiber, 573 mg sodium, 0 Points+
Points values are calculated by Snack Girl and are provided for information only. See all Snack Girl Recipes
Other posts you might like:
---

Today, Snack Girl is happy to host a guest post from Everyday Maven with a recipe for slow cooker chicken curry. Yum!
---

Snack Girl hasn't sucked on a hockey puck lately, but she has grilled skinless chicken breast past the point of edible....
---
---
Get Free Email Updates! Yes please!
---