Think Bars Review: Are They A Healthy Choice?
This think! bar review are for those wondering what happened to their Think Thin bars.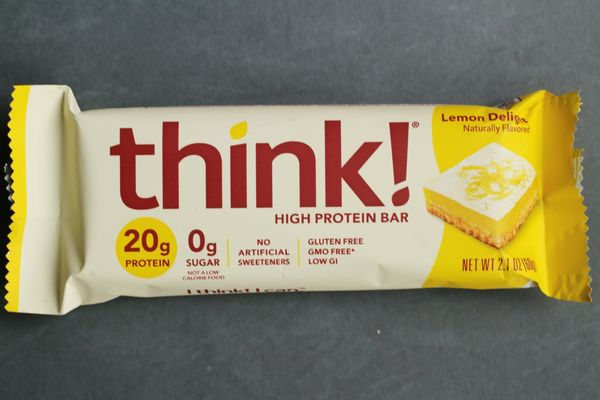 We have been asked to stop thinking thin and start to Think! Years ago I did a thinkThin bars review, and they were okay.
I was in a convenience store when I spied these Think! bars and realized that the manufacturers had changed the product and the branding. My quest for the perfect protein bar continues with the closest to ideal being the Built Bar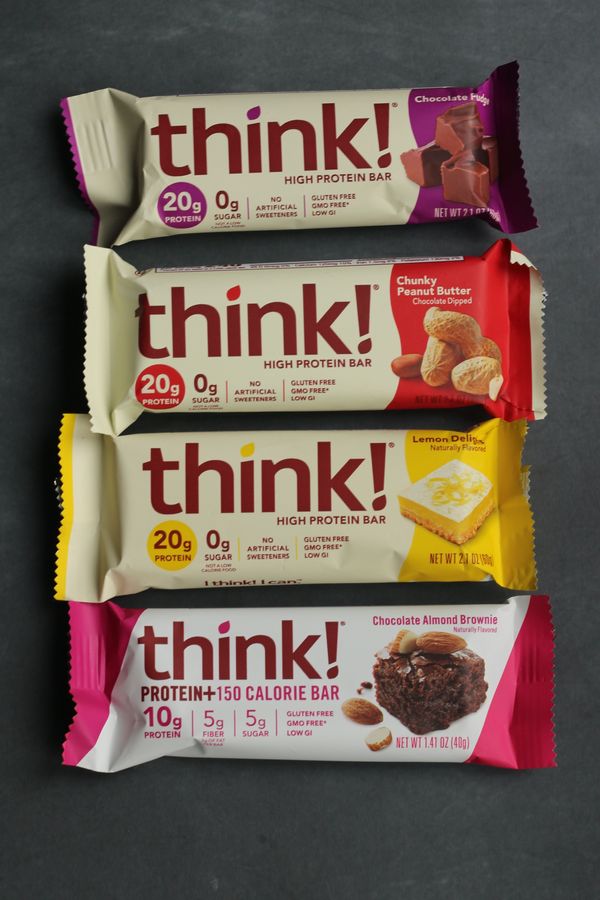 Think! bar is now focussed less on weight loss and more on meal replacement.
This makes a big difference in their products. I rarely want a meal in a pre-packaged bar. Why? I like to eat real food. Eating a bar for a meal might be fine for those on the space station but if I can get to a grocery store once a week - I will make myself a meal.
The ideal snack (the between meal type) is considered 150 calories. These bigger bars with the exception of the think! protein plus bar - are 230 calories (50% more).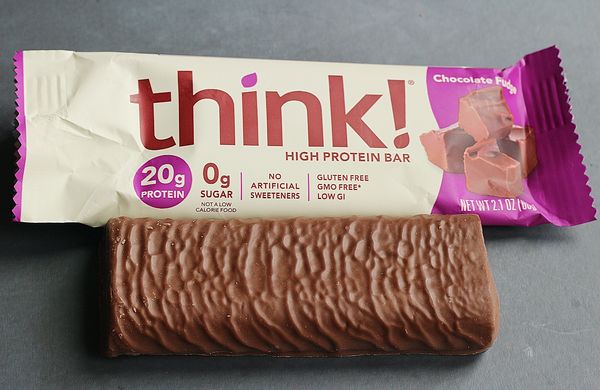 The marketing is now more focussed on an after workout protein snack. For those of us sitting on our butts - this is too many calories.
Here are the nutritional facts for the think! Chocolate Fudge bar:
230 calories, 8 g fat, 3 g saturated fat, 24 g carbohydrates, 0 g sugar, 20 g protein, 1 g fiber, 190 mg sodium, 6 Green, 6 Blue, 6 Purple SmartPts
Here are the ingredients for the think! Chocolate Fudge bar:
PROTEIN BLEND (SOY PROTEIN ISOLATE, WHEY PROTEIN ISOLATE, CALCIUM CASEINATE), MALTITOL SYRUP, VEGETABLE GLYCERIN, ALMOND BUTTER, WATER, COCOA BUTTER, CHOCOLATE, ALKALIZED COCOA, SUNFLOWER OIL, NATURAL FLAVOR. LECITHIN, SODIUM CASEINATE, MILK FAT, SALT
There is no added sugar BUT there is 12 grams of sugar alcohols (maltitol syrup).
Just like in Breyer's Delights, a lot of sugar alcohol could upset your stomach as it does mine. I can't eat them without a stomach ache.
How did this taste? I am sorry if you love these but I found it to taste absolutely awful (though this was the best one). Chalky, sweet, salty and the texture was so strange!
To me it defies logic why anyone would choose to eat this bar.
I did try a few more flavors to see if I could find a good one.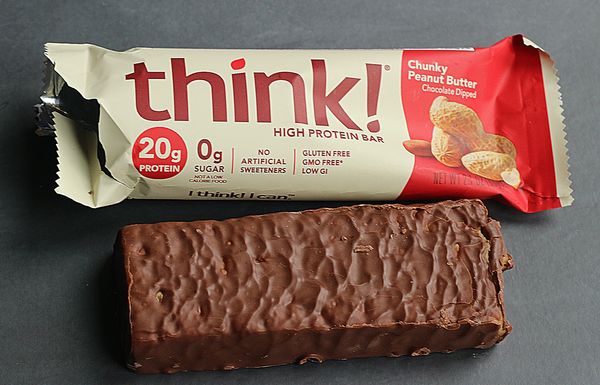 The think! Chunky Peanut Butter is 240 calories and is the same type of bar. It was more salty (and had peanut flavor) but it was also chalky and sickly sweet. I only ate a few bites because I was afraid of the sugar alcohol (10 grams).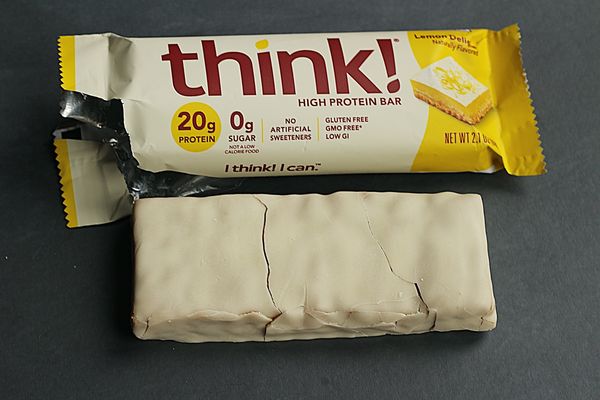 The think! Lemon Delight was the absolutely worst. It didn't taste like lemons (more like chemicals) and it had all the problems of the other bars. If I had to choose a lemon bar - I would eat a lemon zest LUNA bar instead (190 calories and tastes much better!)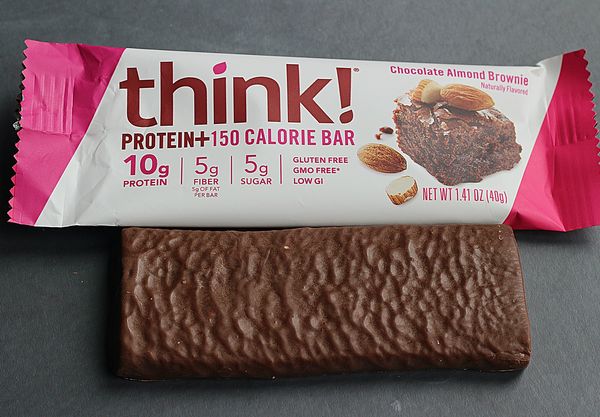 The think! protein+ bar is the one that I would choose out of the entire bunch. First, they used sugar and not sugar alcohols to sweeten it (safe for your tummy). This bar is the closest to the old Thinkthink bars.
Here are the nutritional facts of the think! chocolate almond brownie protein+ bar:
150 calories, 5 g fat, 2 g saturated fat, 19 g carbohydrates, 5 g sugar, 10 g protein, 5 g fiber, 160 mg sodium, 5 Green, 5 Blue, 5 Purple SmartPts
Here are the ingredients:
PROTEIN BLEND (SOY PROTEIN ISOLATE, WHEY PROTEIN ISOLATE, CALCIUM CASEINATE), CHICORY FIBER, BROWN RICE SYRUP, VEGETABLE GLYCERIN, ALMONDS, SUGAR, ALKALIZED COCOA, SUNFLOWER OIL, PALM KERNEL AND PALM OIL, NONFAT DRY MILK, NATURAL FLAVOR, SALT, LECITHIN, TAPIOCA STARCH.
This bar tastes better and I would argue (even with the sugar) a bit better for you as a snack. You get protein, fiber, and a little fat to get you through to the next meal.
The think! protein+ bar is an okay bar to shove in your purse, briefcase, or backpack for those long days when you can't stop to grab fresh food.
Have you tried the new think! bars? What is your review?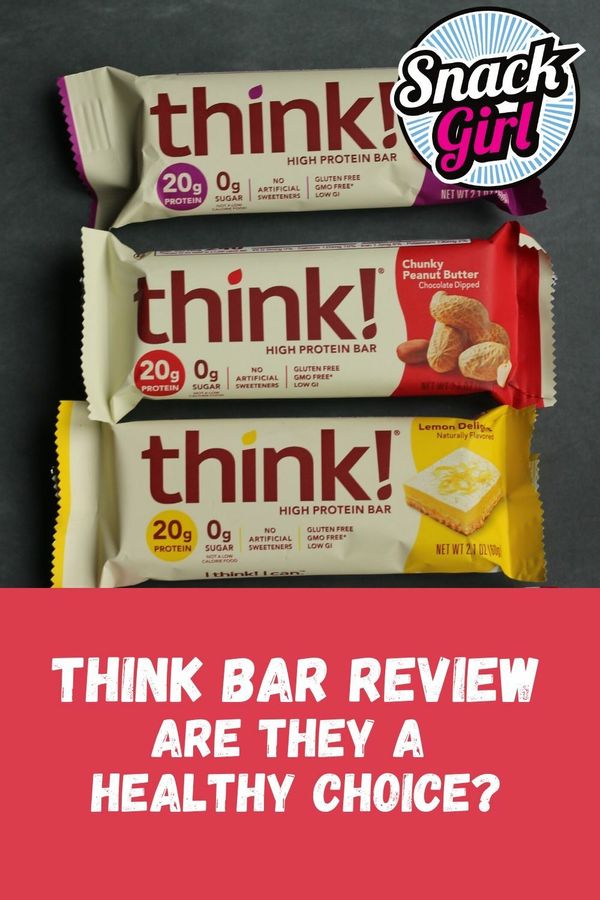 Other posts you might like:
---

There are so many bars on the market and a reader asked me if I thought thinkThin high protein bars are a healthy choice.....
---

This Built Bar review was inspired by a bunch of comments on a previous post and is my personal (non-sponsored) opinion of these bars.....
---