thinkThin High Protein Bars Review: Are They a Healthy Choice?
There are so many bars on the market and a reader asked me if I thought thinkThin high protein bars are a healthy choice.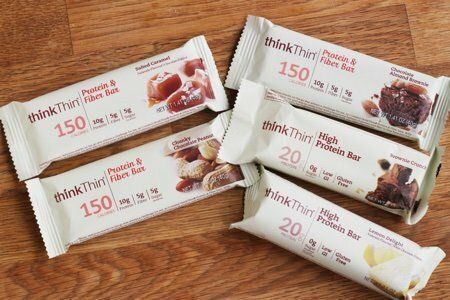 I had never seen them before but I was intrigued. If you have been following my reviews such as my Are LUNA BARs Good for You? post and my Clif Z bar review, you know that I have three basic requirements:
My ideal bar would have:
1. Five grams of sugar per bar.
2. About 150 calories (the right size for a snack).
3. Have a delicious flavor and texture.

What is SO interesting here is that this bar – the thinkThin high protein features ZERO grams of sugar! Whoa! It also has 20 grams of protein and it one flavor is called "brownie crunch"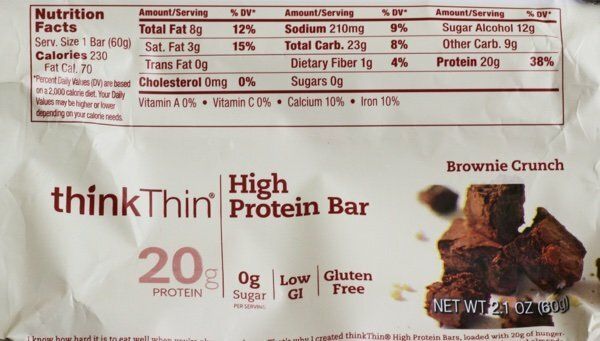 For the WW members, this bar is 6 SmartPoints. First, it misses on my calorie requirement of 150. This bar is 230 calories and I was surprised by the amount of saturated fat – 15% of your daily allowance. That seems like a lot for me in a bar.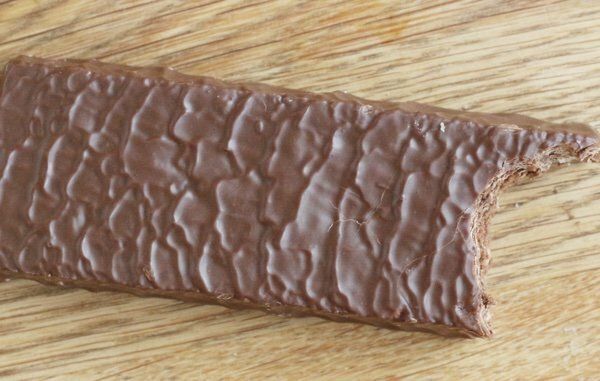 How did it taste? I was very surprised that it had a sweet flavor because of the no sugar. After I ate the bar, I had a stomachache (bloated with gas) and I wasn't sure why. Take a look up at that label. Do you see sugar alcohol – 12 grams?
Sugar alcohol, which can also be found in sugar free gum, can cause stomach distress because it is not digestible (that is why it is a zero calorie sweetener).
I did actually like the taste of this but I wouldn't eat it again because of the 230 calories and the bad stomachache.
thinkThin also makes a 150 calorie protein and fiber bar. It has only 5 grams of sugar! Is this the holy grail of snack bars?

For WW members, this bar is 5 SmartPoints. Again, I was surprised by the saturated fat but I can live with it. Where I get into trouble is the fiber.

This has chicory root fiber which can also give you a stomachache. I wrote about it in Should You Be Concerned about Inulin or Chicory Root Fiber.
This added fiber doesn't give me gas but many of my readers have had trouble with it.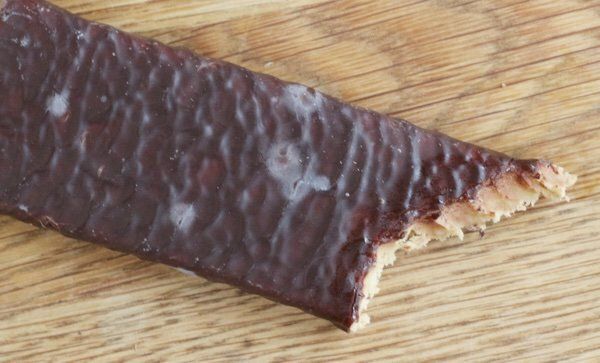 What about taste? The only one that I liked was the Chunky Chocolate Peanut. I don't have a problem with chicory root fiber so I would actually eat this as a snack bar. It tasted like a candy bar – yum! It was chewy and sweet. I found it very satisfying.
It was great to find at least one bar at 150 calories, 5 grams of sugar, and enjoy eating it.I don't think I would love it every day but it would be fine in a pinch.
What do you think of thinkThin bars? Have you tried them?
---
Other posts you might like:
---

LUNA BAR is marketed exclusively to women as a healthy choice. Can a flavor like chocolate cupcake be healthy?
---

I don't know how many of you would like a chocolate brownie that is also a healthy snack –but I guess that would be a majority.
---