Snack Girl Meets Little House on the Prairie with an Overabundance of Apples
Do you know how your husband convinces you to buy a house and neglects to tell you that there are 14 apple trees in the backyard?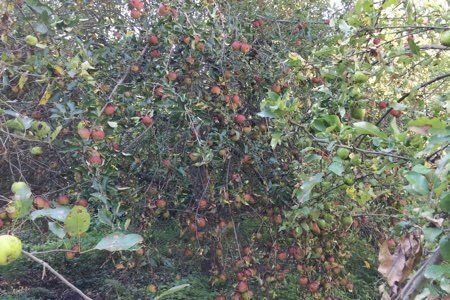 I know, right! Happens all the time.
We have been living in this house for five years and every year we get a few apples. This year? Oh dear.
Here is another shot.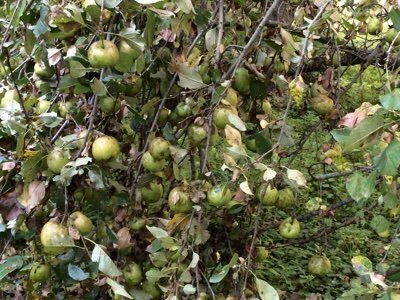 First of all, if you live anywhere near me in Amherst, MA please come and pick some apples. They are quite tasty.
I have been trying to deal with the onslaught and it isn't easy. These trees produced all this FOOD and I feel that I must attempt to store and eat as many as my family can stand. Since these are not Twinkie trees – we can literally stuff ourselves with this healthy fruit.
To make apple pie, apple bread, or apple crisp, you must core and peel the apples. Anyone love to peel?
My friend, Carole, gave me one of these a couple of years ago and it works well.
I started asking around and found that I can freeze apples for later use – and for smoothies (which sounds good to me).
First, you slice them and put them in a bowl with about a gallon of water and 2 tablespoons of lemon juice.
Then, you put them on a tray and freeze them. The end of the process is to put them in freezer bags.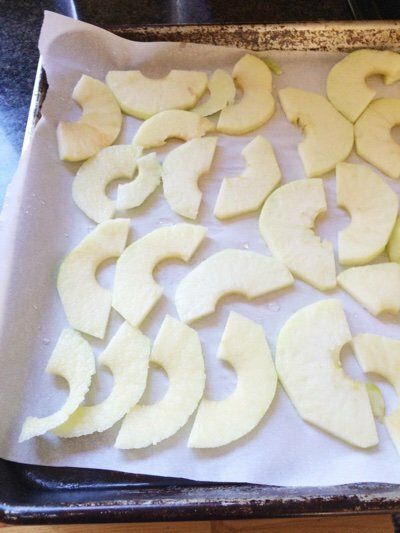 You have to freeze them this way or you get a large frozen unusable clump of apples. I was told they will stay good in the freezer for a year.
I am also going to attempt canning slices and my husband is making applesauce. We will be eating applesauce until 2020. ☺
I found this wonderful book on apples (see below) and am ready to try a bunch of different apple recipes – salads, savory, and (of course) desserts.
Have you ever had an overabundance of a fruit or vegetable in your garden? How did you deal with it?
---
$29.99 $27.78 Buy on Amazon.com
As an Amazon Associate I earn from qualifying purchases.
---