Vegan Creamed Spinach Recipe
Your vegan friends will love that you thought of them and made this vegan creamed spinach recipe.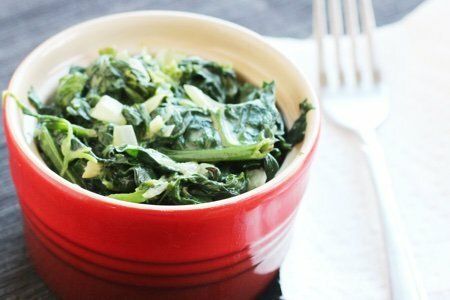 It is hard to be a vegan when the holidays seem to call for a stick of butter in absolutely every recipe. I was reading a cooking magazine – stick of butter in cookies, turkey, mashed potatoes, sweet potato casserole, and green beans. I almost had a heart attack READING the recipes. Wow!
I am tasked with making a "healthy holiday" for all of you and, frankly, it is not easy. Most of the recipes aren't that easy to alter without ruining the flavor. Holiday food is rich food for a reason – you are celebrating!
My cream of spinach and broccoli soup is also vegan and could be a great starter for Thanksgiving and you could make my vegan mushroom stuffing recipe. Heck, with all these delicious options – maybe I will skip the turkey (not).
This recipe is a very fast way to dress up spinach and with the ability to buy a bag of pre-washed spinach – a snap to make. I couldn't find fresh spinach to wash at my supermarket and ended up buying a bag – so easy!
The coconut milk does not taste like regular cow's milk cream, but has a lovely flavor all its own. Coconut milk is really delicious paired with vegetables and especially spinach (everyone loves cream of spinach!).
I love to use coconut milk with a curry and lots of vegetables. I am working on a slow cooker curry that I hope to debut here soon. It is fun to have a diversity of flavors when you are trying to eat more vegetables. Vegans and the paleo crowd use a lot of coconut milk because they avoid the fats in meats and dairy.
I love that is has 141% of your vitamin A, 70% of your vitamin C, and 7% of your daily value of iron in one serving!
You gotta try this!
Do you have vegans come over on Thanksgiving? What do you feed them?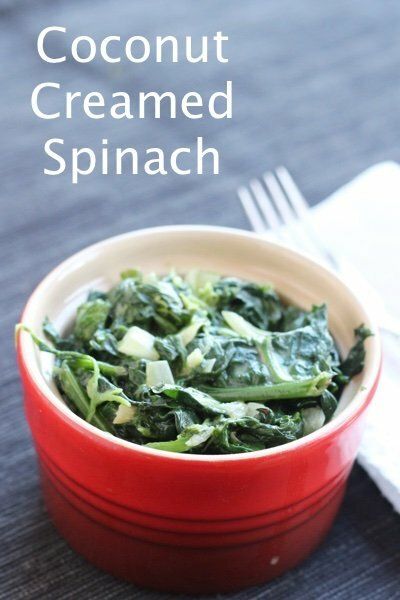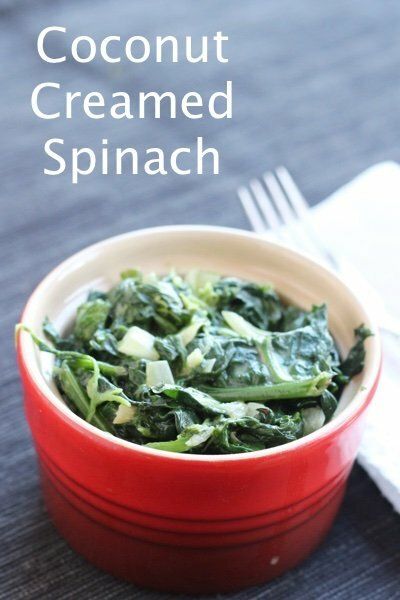 Coconut Milk Creamed Spinach Recipe
Makes 4 servings 1 tablespoon extra-virgin olive oil or coconut oil
1 small onion, chopped
2 cloves garlic
1 pinch crushed red pepper
1 8-ounce bag pre-washed spinach
2/3 cup light coconut milk
salt and pepper to taste

In a large skillet (with a lid), heat oil over medium high. Saute onion and garlic until softened. Add spinach, stir, and cover for about three minutes to help the spinach wilt. When spinach cooks down, add coconut milk and salt to taste.
For ½ cup = 84 calories, 5.8 g fat, 2.5 g saturated fat, 6.7 g carbohydrates, 0.8 g sugar, 2.3 g protein, 1.8 g fiber, 100 mg sodium, 3 SmartPts
Points values are calculated by Snack Girl and are provided for information only. See all Snack Girl Recipes
Other posts you might like:
---

I cannot believe I am writing about soup already! The overnight lows here have been in the 40's....
---

Are you ready for Thanksgiving? It will be here before you know it....
---
---
Get Free Email Updates! Yes please!
---