Eat Less Meat And Dairy With These Vegan Snacks
Snack Girl remembers the day when she met her first vegan - and she thought, "What is WRONG with you?".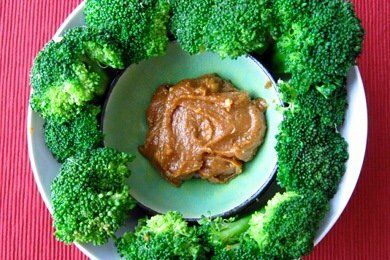 The concept of life without cheese was just too much for Snack Girl. Since then, Oprah has attempted a vegan lifestyle for a whole week!
What is a vegan? A dietary vegan does not eat ANY animal products. That means no meat, eggs, milk, cheese, honey (made by animals!), and fish, etc.
Frankly, this diet would make me sad because I love so many of these foods. On the other hand, moving to a more vegan diet seems like a good thing.
Why? A few reasons:
Many studies have linked red meat consumption to heart disease and cancer.
Industrial meat production is cruel to animals and potentially unsafe for humans (think salmonella poisoning).
Meat production uses a lot of resources (not green).
Fruits and vegetables are not as calorie dense as meat and have more fiber. It seems that if you cut down on your meat eating, and up your fruits and veggie consumption you will be effecting your health and the planet in one stroke!
Personally, I have been moving toward a TOTAL meat consumption of 4 ounces per day. Ever since I read that the average African eats 0.5 ounces of meat per day, I have tried to cut down my portion sizes.
When I serve chicken, steak, or fish on my plate, my portion looks about the size of my American Express Gold Card (which I like to take out and admire as I measure out my portion :).
Americans put away 176 pounds of meat a year (compared to 66 pounds per year in developing countries)! That is about 8 ounces a day - and so I am probably trying to cut my personal meat consumption in half.
And, I have been buying organic meat products whenever possible and just eating LESS. Organic is less terrible for the environment - but it still doesn't answer the problem of whether eating meat is sustainable.
At any rate, here on Snack Girl - I support eating less meat and more fruits and vegetables. You can find an AWESOME list of vegan snacks here:
and every time I list a new one - I will tag it with the term: Vegan - so the list will ever expand into the universe of snackiness.
Have you been moving toward a vegan diet? Please share.
Other posts you might like:
---

Anybody else sick of packaged cereal bars? But, they are just SO easy and fast....
---

Can you trick your pals into believing you used a stick of butter to make your banana bread? I think so!...
---

Snack Girl lives in the middle of nowhere. Sometimes, this isn't so bad - notice how this barn roof is the same color as the Golden Gate Bridge?....
---

Snack Girl receives desperate e-mails almost every day from people who are hungry and don't want to eat. Frankly, I never know what to say....
---