Vegetable Skeleton and More for a Healthy Halloween
A vegetable skeleton? Why not? Nothing is more scary to kids than vegetables.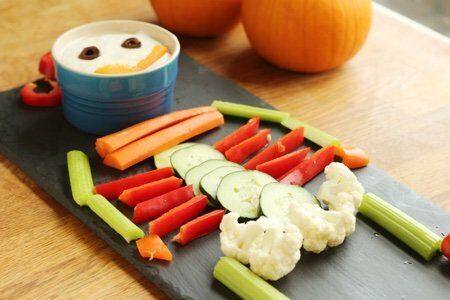 I am always on the lookout for something that I can make for a Halloween party that doesn't involve candy. Over the years, I have promoted Mandarin Pumpkins, Banana Ghosts, and Pretzel Brooms (see below).
This year, I am adding a vegetable skeleton to the mix. My 13 year old created this vegetable skeleton and ate a bunch of veggies while she did it. Did I mind? No! Munch all you want.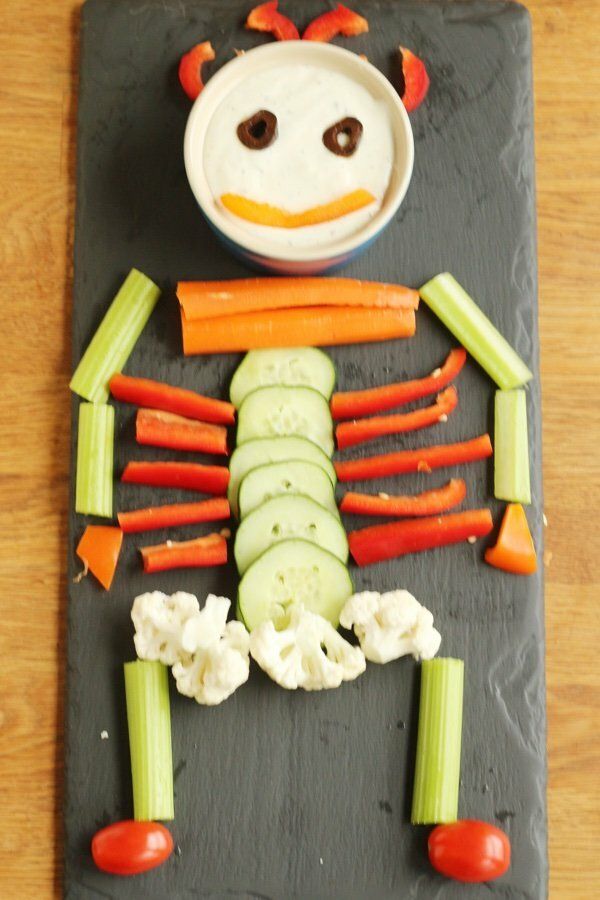 You can do this with any vegetables (or fruit) you have. I do like the look of the red pepper strips as the ribs of the skeleton and cauliflower for the pelvis. If I am bringing this to a Halloween party - I put it together on site. Skeletons do not do well in transit.
I don't want to demonize sugar but SUGAR IS SATAN. This is a rough holiday for those of us trying to cut back, no?
My kids are going to be trick or treating and I have found that the candy doesn't taste that good to me. They don't seem to like it all that much, either. What they do like is collecting it and then arguing about it (and then I throw it away when they aren't looking).
Here are the instructions for how to make these cute healthy Halloween treats.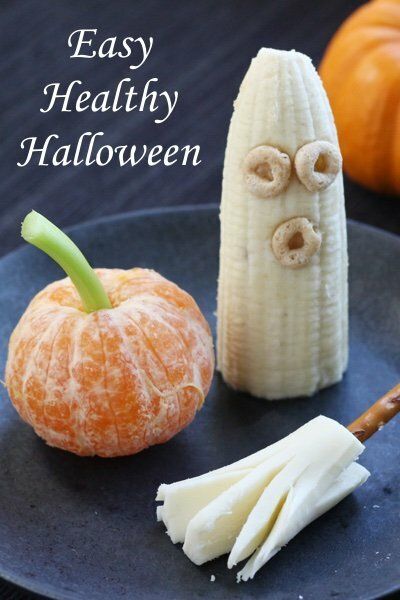 Mandarin Pumpkins

Peel mandarin oranges (smaller ones with no seeds) and shove a small stick of celery into the center to make a stem. Wrap if not serving these immediately so the mandarins don't dry out.
Banana Ghosts

Cut banana in half and press Cheerios onto flesh. Eat immediately or soak banana in lemon juice before putting on Cheerios so they don't turn brown.
Pretzel Brooms

Slice a cheese stick in half and cut several slices into one half of the stick. Shove end of pretzel stick into flat end of cheese stick to make a "broom".
Please share your healthy Halloween tips! We can use as many as we can get.