Vegetarian Slow Cooker Baked Beans
Yesterday, Snack Girl took on July 4th but she forgot to mention her very favorite recipe for the celebration.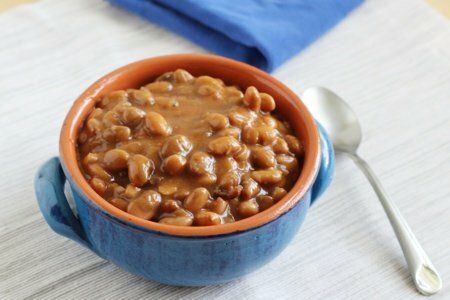 If you have been following this blog for a while, you know that I am cheap. While I would love to be the person who brings the aged steak to the BBQ, my budget allows me to bring potato salad, watermelon, or baked beans.
This recipe makes seven cups of beans and you can bring it in your slow cooker so the beans remain warm. I love these as a side for anything at a BBQ because they go so well with hot dogs, corn, coleslaw – you name it.
Beans, of course, are loved by vegetarians and your gluten-free crowd. Because I added sugar (in the form of molasses and it is added to ketchup) this is also a kid pleaser.
Don't tell anyone this, but these beans are high in manganese, magnesium, potassium, selenium, thiamin, and vitamin B6. You get a lot of bang for your calorie buck with beans.
There is one ingredient that many of you will not have in your pantry. Liquid smoke can be found next to the barbecue sauces in the grocery store and NO – it is not like adding cigarettes to your beans.
Liquid smoke is made by channeling smoke from smoldering wood chips into a vapor. They remove the tars and resins and you get a smoke-flavored liquid that tastes really good and isn't that different from other types of flavorings (like vanilla which is the essence of vanilla beans). Look for Wright's Liquid Smoke – it doesn't have additives such as salt, vinegar, or molasses and retails for $1.99 a bottle.
The liquid smoke adds back the flavor that you would have added had you used some pork fat or a ham hock - and it works! I use a ham hock for kidney beans in my book and it is super tasty (but obviously not vegetarian).
Since posting this recipe, there has been a discussion below about soaking the beans. I did not soak the beans for this recipe and the beans cooked fine.
What do you bring to BBQ's?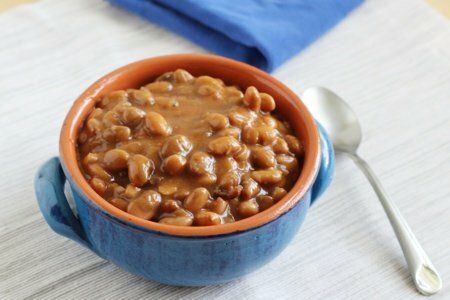 Slow Cooker Baked Beans Recipe
Makes 7 cups
Ingredients
1 medium onion, chopped
1 teaspoon chili powder
1 pound dried pinto beans, rinsed
1 teaspoon liquid smoke such as Wright's Liquid Smoke
5 cups water

1 cup ketchup
¼ cup molasses
¼ cup Dijon mustard
¼ cup cider vinegar
Instructions
Put onion, chili powder, pinto beans, liquid smoke, and water into a 6 quart slow cooker and cook on high for 3-4 hours or until the beans are tender. Drain the beans and put them back into the slow cooker. Add the ketchup, molasses, mustard, and cider vinegar and mix until blended. Heat on low for 20 minutes or until bubbling.
Nutrition Facts
½ cup serving is 154 calories, 0.7 g fat, 0.0 g saturated fat, 30.1 g carbohydrates, 8.2 g sugar, 7.5 g protein, 5.5 g fiber, 252 mg sodium, 4 Points+
Points values are calculated by Snack Girl and are provided for information only. See all Snack Girl Recipes
Other posts you might like:
---

Do you have any relatives who say that they cook and then they just open cans? Yep, this recipe was inspired by a "Can Chef"....
---

Sometimes you hear a crazy idea and you simply must try it....
---
---
Get Free Email Updates! Yes please!
---