Healthy Choices in Vending Machines
Do you confront a vending machine at some point in your day? It would be pretty tough to avoid them.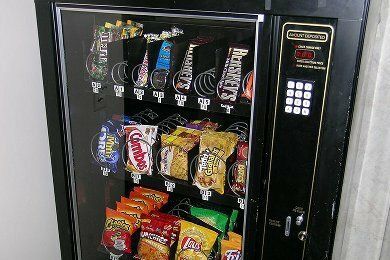 Schools, cafeterias, workplaces, in front of stores, airports, and movie theaters are venues for the vending machine.
Erin, a Snack Girl reader, recently wrote to me about her workplace vending machines:
The company that runs the cafeteria at my workplace has started trying to help us identify the "healthy choices" in the coin vending machines. They are now putting little green tabs so we can quickly recognize a healthy choice.
Thanks to the great education I have received from your blog and others, I know that nothing that comes from those machines is a healthy choice. I also thought you might be interested in hearing what they describe as a healthy choice, and what snacks fall into that catagory.
This is their description..."NAC For Snack is AVI's exclusive initiative that labels snacks that meet our criteria so you know you are making a good choice. Snack machines contain special labeling to identify healthy choices." For a snack to make the list it must meet all of these criteria:
1. Less than 220 calories per serving
2. Less than 35% of calories from fat (nuts are exempt)
3. Less than 1.5g of saturated fat
4. No trans fat
5. Less than 35% sugar by weight (100% fruit items are exempt from sugar restriction)
OR
The snack must meet 4 of the above criteria AND have 10% of the daily value of one or more of the following: Vitamins A,C,E, Iron, Calcium. Protein or Fiber.
All of this sounds great until you read what passes for healthy.
Here is the list of HEALTHY CHOICES:
1. Austin Zoo Animal Crackers
2. Baked Lay's Southwestern Ranch
3. Generation Max 3 Musketeers Chocolate Brownie
4. Fiber One Oats & Peanut Butter Bar
5. Kar's Unsalted Trail Mix
6. Kar's Wasabi Nut Crunch
7. Kellogg's Pop-Tarts Brown Sugar & Cinnamon
8. Kellogg's Pop-Tarts Frosted Strawberry
9. Kellogg's Pop-Tarts Hot Fudge Sundae
10. Kellogg's Rice Krispies Treats
11. Krunchers! Mesquite Bar-B-Que Potato Chips
12. Nature Valley Oats 'N Honey Granola Bars
13. Pepperidge Farm Baked Natural Wheat Crisps
14. Planters Salted Peanuts
15. Snyder's of Hanover Sourdough Nibblers
16. SunChips Garden Salsa
17. Wheat Thins Toasted Veggie Chips

Thanks for sending this, Erin. What is going on here? Did some company nutritionist lose their marbles?
I wonder if anyone at Erin's workplace actually believes this list is healthy. Yes, there are some healthy choices here - the trail mix and peanuts stick out. And, there are some okay choices such as the granola bars, and the wheat crisps.
Rice Krispies Treats? Pop-Tarts? Kellogg's must really have this company in their back pocket to suggest that these are healthy snacks.
Just give me a Snickers bar and let me have a REAL treat.
Please comment about what you believe is happening with this list.