Make a Delicious Taco Bowl with Tyson® Grilled & Ready® Chicken, TortillaLand® Flour Tortillas, and Wish-Bone® Italian Dressing all at Walmart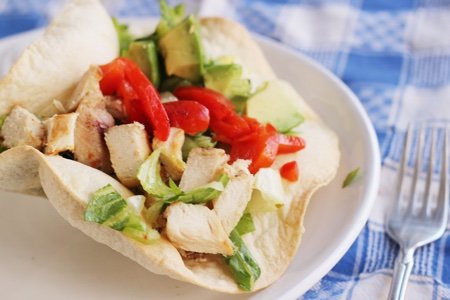 This is a sponsored post written by me on behalf of Tyson Foods, Inc., Circle Foods LLC, and Pinnacle Foods Group LLC. All opinions and text are entirely my own.
Time to make a meal that is packed with protein, easy, and full of flavor.
I recently went on a shopping trip to Walmart and purchased Wish-Bone Italian Dressing, Tyson Grilled & Ready Chicken and TortillaLand Flour Tortillas so I could create a taco bowl salad that my entire family would love.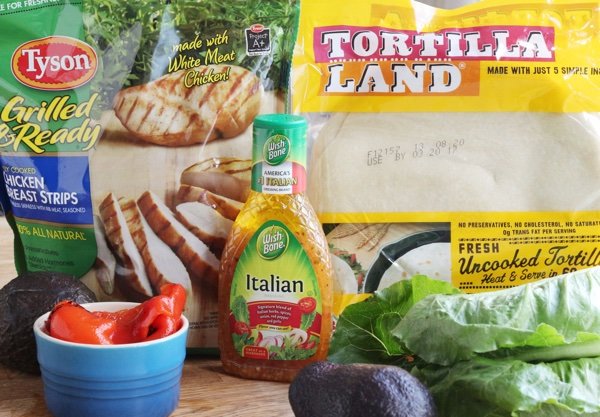 The Tyson Grilled & Ready Chicken is found in the freezer section and is a 22 ounce bag of protein packed fully cooked chicken breast strips. These are great for when I don't have time to grill chicken myself (or when it is winter and my grill is under 2 feet of snow).
Wish-Bone Italian Dressing has Italian herbs, garlic, onions, and red peppers, and makes it easy to add flavor to any salad. I also use it for marinating steak for kabobs in the summertime. It is a bold, flavorful dressing that contains no high fructose corn syrup and it is gluten free. I found it next to the oils and vinegars.
TortillaLand Flour Tortillas are made from 5 ingredients and are found in the refrigerated section of Walmart next to the cheeses. They sell out frequently at my local store.
This recipe is fast and simple and I love how versatile it is.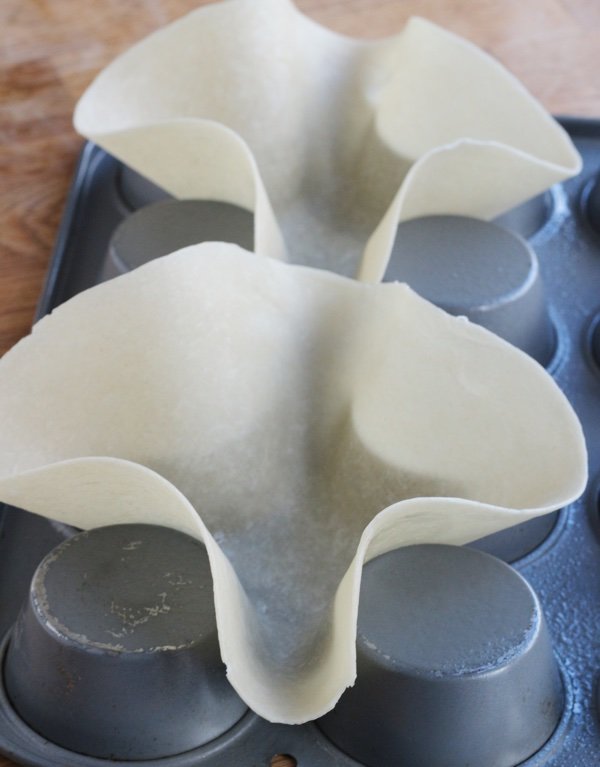 First, you make a "taco bowl". This isn't going to turn out like the one at a restaurant – it will be much better!
TortillaLand Flour Tortillas are uncooked (you have to heat them for 60 seconds to finish cooking them if you are cooking on the stove) and are great for this use. You heat the oven to 350 F, fold the uncooked tortilla into an upside down muffin tin and cook for 11-13 minutes.
The tortilla hardens and forms a bowl (or large crouton).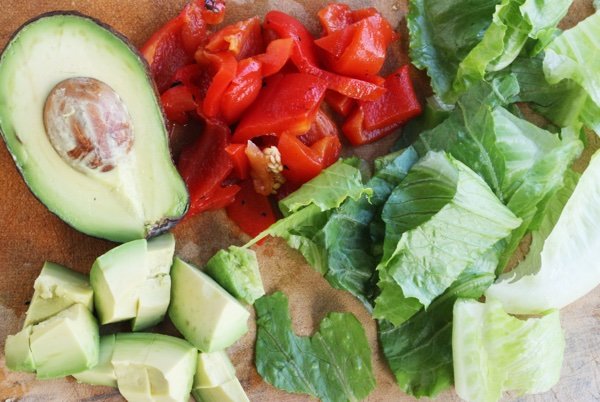 I used fresh avocado, Romaine lettuce, and jarred fire roasted red pepper that had been packed in water. You can use whatever you have on hand – frozen corn, black beans, tomatoes, cucumbers, red onions…. The only limit is your imagination.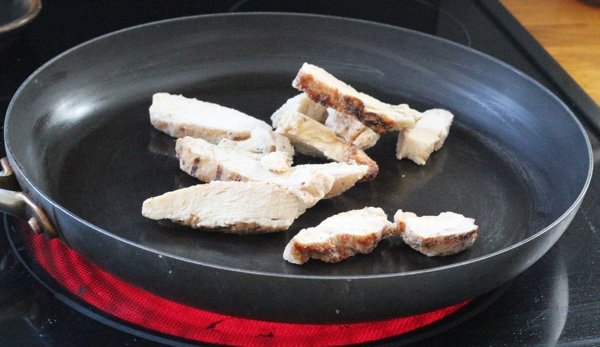 Above is a photo of about 6 ounces of the Tyson Grilled & Ready Chicken (or two servings) and I sautéed them for 3 minutes at a medium heat to thaw and ensure they were hot. Alternatively, you can put them in the microwave for 1-2 minutes (depending on your microwave).
I tossed the lettuce in a little of the Wish-Bone dressing and filled the "bowl" with the fixin's. Doesn't it look delicious?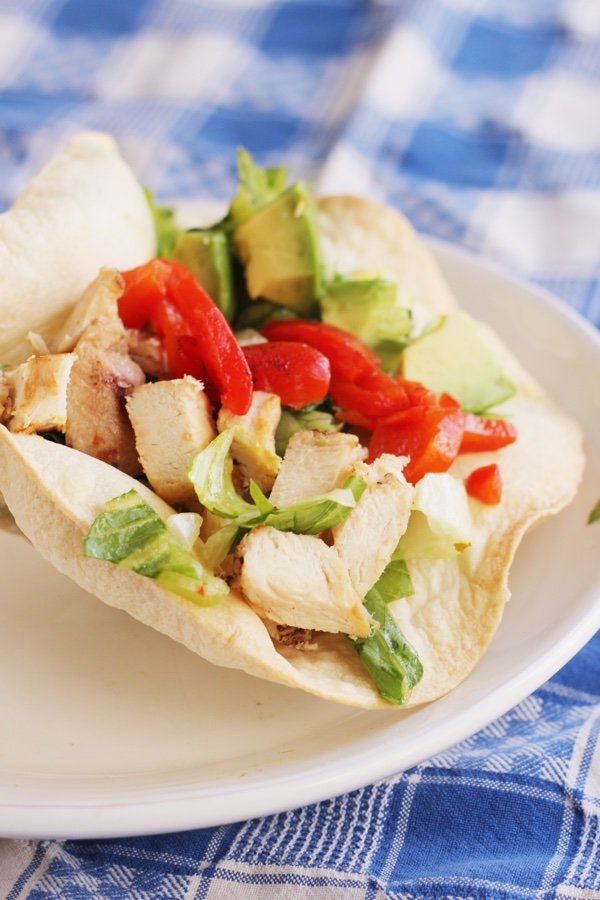 print
Pin It
Taco Bowl Recipe
Serves 2
2 TortillaLand Flour Tortillas
6 ounces Tyson Grilled & Ready Chicken
2 tablespoons Wish-Bone Italian Dressing
2 cups chopped Romaine lettuce
1 fresh avocado, chopped
2 fire roasted red pepper halves, chopped
Heat oven to 350 F. Spray the bottom of a 12 well muffin tin with non-stick spray. Fold tortilla into the bottom to create a bowl shape. Bake for 11-13 minutes until hard. Heat a non-stick pan to medium and put chicken in it. Heat for 3-5 minutes until warm. Mix dressing with lettuce. Put taco bowl on plate and add lettuce, chicken, avocado, and peppers. Serve immediately.
Points values are calculated by Snack Girl and are provided for information only. See all Snack Girl Recipes
---
Get Free Email Updates! Yes please!
---