Easy Asian Chicken Noodle Soup from This Week For Dinner
Every once in a while Snack Girl meets a fellow food blogger in person.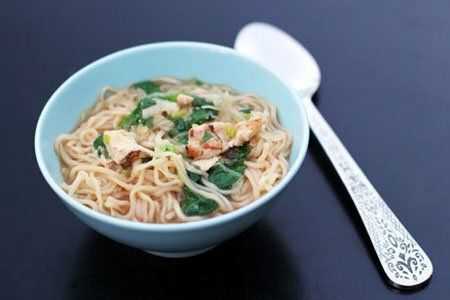 I know it is hard to believe that I ever leave my cave, but I do from time to time. I was lucky enough to meet Jane at a Ladies Home Journal blogger event.
Why do I like her? First of all, she helped me carry stuff a long way. Secondly, she has a wonderful blog called This Week For Dinner. Her food is healthy, her photos are beautiful, and she even made over ramen! Check her out.
From Jane:
I love fast and easy recipes, I love food that tastes good, and I love being able to feed my family nutritious meals. When those three things come together, it's like a perfect storm of kitchen wonderfulness!
Before we get to that perfect storm, a confession is in order. I love ramen noodle packs. You know, the 89-cent packages of ramen noodles paired with tasty broth packets that are oh-so-good and oh-so-devilishly-packed-with-sodium?
I haven't bought ramen in years because of that darn sodium. Happily, today's recipe will let us have our ramen and eat it, too! Enter the perfect storm of wonderfulness, today's recipe for Asian Chicken Noodle Soup.
While you will need to buy one of those cheap-o packages of ramen for this recipe, you will also be throwing away the evil little flavor packet inside. Instead, we'll use healthy, natural ingredients and just a bit of salt to create a yummy meal that's perfect for kids, adults and college kids alike.
This recipe is quick to prepare and should be eaten immediately, so plan accordingly!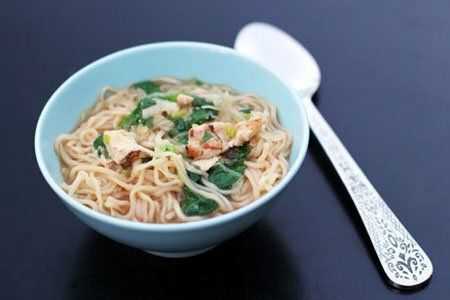 Easy Asian Chicken Noodle Soup (a.k.a. Homemade Ramen)
reprinted with permission from This Week For Dinner and adapted from a recipe in America's Test Kitchen Quick Family Cookbook
Makes 6 1-cup servings
Ingredients
1/2 tablespoon vegetable oil
1/2 pound boneless, skinless chicken breasts, cooked and shredded
2 green onions, sliced thin with greens separated from whites
1/4 teaspoon ground ginger
1 garlic clove, minced (I use my garlic press)
3 1/2 cups low-sodium chicken broth
1 tablespoon soy sauce, plus extra as needed
1 3-ounce package ramen noodles, flavor packet discarded
1 1/2 cups shredded coleslaw mix (I used a coleslaw mix made only with green cabbage)
1 1/2 cups fresh baby spinach, roughly chopped
1/2 tablespoon sesame oil, plus extra as needed
salt and pepper
Instructions
Heat vegetable oil in a large pot over medium heat. Add chopped white green onions (reserving the greens for later), ginger and garlic and cook for about 1 minute. Stir in chicken broth and soy sauce and bring to a simmer (you'll want to turn the heat up to get it boiling gently, then reduce the heat to medium or so to maintain the simmer).
Stir in ramen noodles and coleslaw and cook for 4 minutes. Add chicken and spinach and cook for 1 minute. Stir in the rest of the green onions and sesame oil. Mix together, taste, then add salt, pepper, soy sauce and sesame oil to taste. Serve immediately. Serves 4.
(Cook the chicken however is easiest for you – grill, sauté, boil, whatever!)
Nutrition Facts
193 calories, 5.7 g fat, 2.4 g saturated fat, 13.7 g carbohydrates, 0 g sugar, 14.7 g protein, 1.1 g fiber, 564 mg sodium, 4 Points+
Points values are calculated by Snack Girl and are provided for information only. See all Snack Girl Recipes
Other posts you might like:
---

As we get ready to launch into holiday mode, Snack Girl is on the look out for lighter fare….
---

Do you have any relatives who say that they cook and then they just open cans? Yep, this recipe was inspired by a "Can Chef"....
---
---
Get Free Email Updates! Yes please!
---