A Surprise at Wendy's
A reader asked me to discover the healthy options at Wendy's and report back.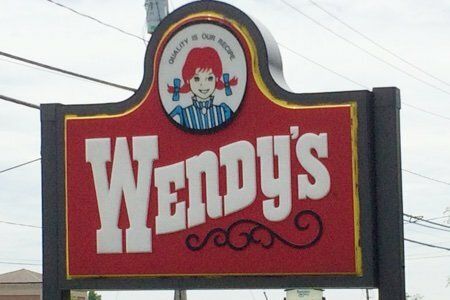 I am usually up for a challenge so I decided to go to my local Wendy's and see what was there. I seem to remember a salad bar at one point. Right now, I will admit to NOT doing any research (as I was confident that I could figure it out) before I got there.
Well, there isn't a salad bar – but there was this sign: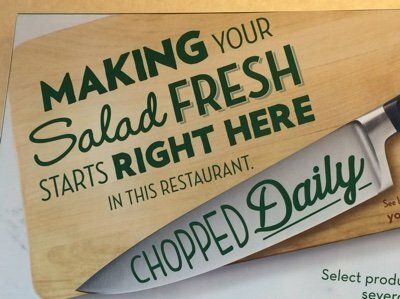 In fact, there was a whole bunch of photos of salads around Wendy's and they were serving organic green tea (wow). I was thinking – this is going to be easy! All I have to do is order a salad and I will have a healthy meal.
So, I picked the salad that I liked the sound of "Spicy Chicken Caesar" and paid my $6.50.
Boy, did I feel like an idiot when this showed up: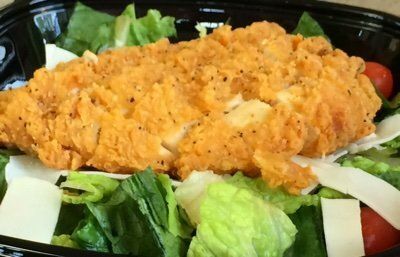 Who puts fried chicken on a salad? That is like ordering a hot fudge sundae and drinking a diet coke – it simply doesn't make any sense. I assumed I was getting grilled chicken – duh.
Turns out I could have ordered the grilled chicken INSTEAD but I didn't do my research so I was without a clue.
I did eat all of it without finding out until later that I ate 700 calories of fried chicken salad. Whoops! I will say that the romaine lettuce was very fresh as were the tomatoes. This was the best fast food salad that I have ever had in terms of crunchiness of greens.
Since I visited, I found that they have an app that allows you to look through their menu and determine the healthiest options. I think it is an excellent resource for navigating Wendy's and if I was more together - I would have used it.
Here is the salad I should have ordered – though I will say that the sugar and sodium are too high for me to deem it "healthy".
Asian Cashew Chicken Full Salad
380 calories, 13 g fat, 2.0 g saturated fat, 33.0 g carbohydrates, 18 g sugar, 36 g protein, 1080 mg sodium, 7 Points+
You can order any of their salads in half portions – and that is going to keep the dollar amount you spend and the number of calories you inhale way down compared to something like a "Baconator".
I believe I was the only one in the Wendy's that didn't order the Baconator that afternoon.
What do you eat at Wendy's? Do you like their salads?
---
Other posts you might like:
---

When I write about McDonald's I am usually talking about what they need to quit doing....
---

Corporations have been vilified for deceitful marketing practices. The worst companies seem to have big names like "Coca-Cola"....
---