What are the Best Protein Bars for Weight Loss?
What are the best protein bars for weight loss? I can tell you that there are a TON of options.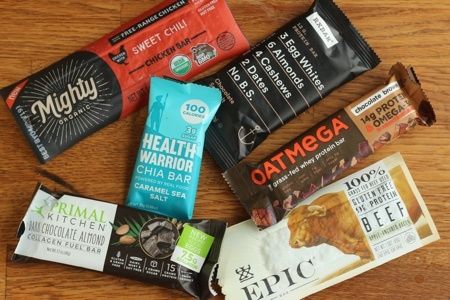 For me a protein bar for weight loss must be low in added sugar. While I wish everyone would choose an apple with peanut butter as a snack or a hard boiled egg - I get that people want something they can shove in a bag to help them get through the day (and keep them away from the office cookies).
Flight attendants, especially, have written to me asking for options and I know that it must be hard to carry around fresh food all the time.
I have waded into this territory with my thinkThin High Protein Bars Review and my Are Kind Bars Good For You? post BUT I had no idea how many new bars were out there.
This is one quarter of the options at my local Whole Foods: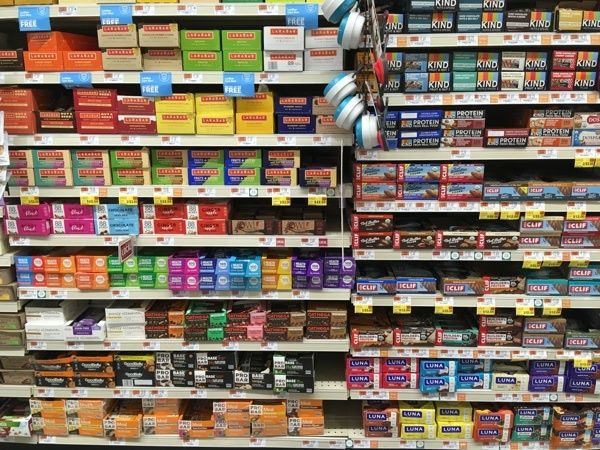 What? There are so many to cover that I decided not to write about the ones that I didn't like. I found several of the bars that I bought completely inedible and my dog thought that they belonged to him. I am not kidding - he came running up after I opened a couple of the bad ones and would not stop barking.
I would rather be positive!
My very favorite was this one: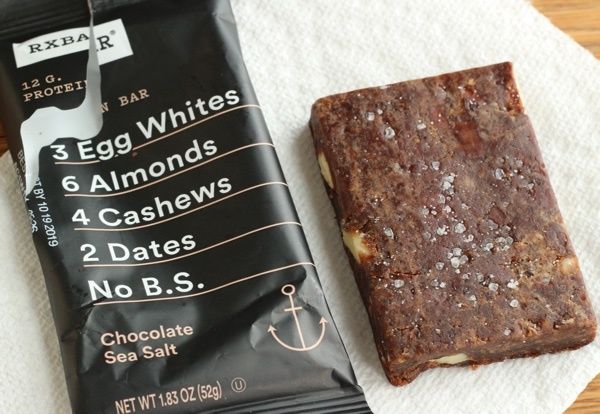 I tried the chocolate sea salt RXBAR on advice from a pal and it tasted so good. The ingredients: dates, egg whites, almonds, chocolate, cocoa, natural flavors, and sea salt - all work to create a delicious bar.
Here is the nutrition information:
210 calories, 9 g fat, 2 g saturated fat, 23 g carbohydrates, 13 g sugar, 12 g protein, 5 g fiber, 260 mg sodium, 7 Freestyle SmartPts
I wish these were a bit smaller because 210 calories is too large for a snack BUT I do think this bar would keep you from eating crap. There is 13 grams of sugar (due to the dates) but there is also 12 grams of protein. Given how delicious it is - I am going to say it is a good choice.
My second favorite isn't exactly a protein bar but it is great for an in between meal snack.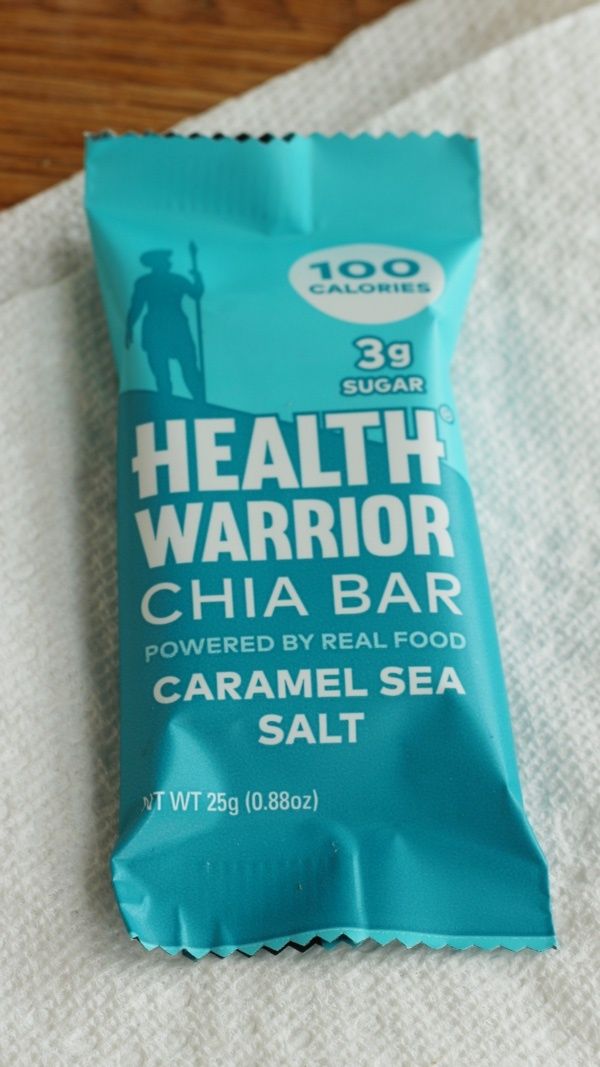 This Health Warrior Chia Bar is 100 calories (hurray!) and also low in added sugar. What I like about it is it is quite chewy - like a candy bar - and takes a while to eat. It has a great nutty flavor and I found this small bar quite satisfying.
Healthy Warrior Chia Bar Caramel Sea Salt ingredients: White Chia Seeds, Cashew Butter, Brown Rice Syrup, Chicory Root Fiber, Organic Brown Rice Crisps (Organic Brown Rice, Organic Brown Rice Syrup, Sea Salt), Rolled Oats, Organic Brown Sugar, White Grain Sorghum Extract, Almonds, Arabic Gum, Himalayan Pink Salt, Natural Flavors, Mixed Tocopherols (Vitamin E).
100 calories, 4.5 g fat, 0.5 g saturated fat, 15 g carbohydrates, 5 g sugar, 3 g protein, 5 g fiber, 60 mg sodium, 3 Freestyle SmartPts
Finally, I found this bar - Mighty Sweet Chili Chicken Bar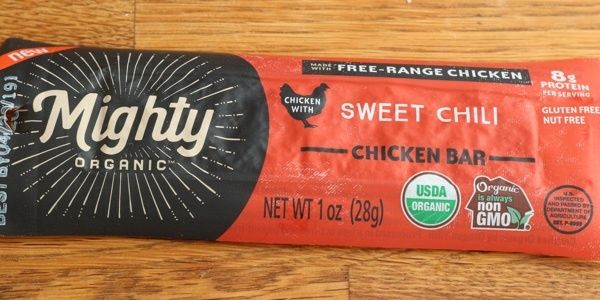 There were a bunch of meat bars to try but this was the only one I liked. Why? It tasted pretty good and has far less saturated fat than many beef jerkies or salamis. It does look a bit strange - doesn't it?
You can see why a dog might get excited when he sees this.
This was only 35 calories and had 8 grams of protein! But, the downside is that they add 340 mg of sodium (14% of your daily value) which is a TOO MUCH for a food that is only 35 calories. I would be very thirsty if I ate too many of these. I would stash one in my bag though for the midday hungries.
Mighty Organic Sweet Chili Chicken Bar Ingredients: Organic chicken, organic honey, sea salt, encapsulated lactic acid, organic spices, cultured celery juice powder, organic smoked chili flakes, organic garlic powder, organic capsicum extract.
35 calories, 2.5 g fat, 0 g saturated fat, 2 g carbohydrates, 2 g sugar, 8 g protein, 0 g fiber, 340 mg sodium, 1 Freestyle SmartPts
Please share your favorite protein bars.
Other posts you might like:
---

There are so many bars on the market and a reader asked me if I thought thinkThin high protein bars are a healthy choice.....
---

Are KIND Bars good for you? I wish I could say eat them without caveats but it seems that almost none of bars out there are perfect.....
---