What Should You Eat for Dinner?
This is the time of year when people try to start anew. We are a few days in to 2016 and I have been sick in bed for days.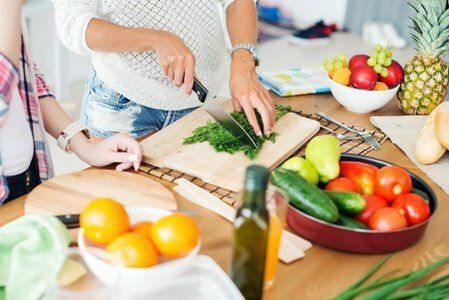 The good news about being sick is that it forces you to think (since you can't do much else). I have been ruminating on dietary recommendations because I want to help people make better choices.
What I have learned after years of study is that the field of nutrition science is very new and the conclusions so far about what to eat are conflicting. I wish that I could say that there was a clear answer because that would make your life easier (mine too).
For example in the 1980's, the FDA recommended that we eat less fat based on nutrition science that indicated that fat and cholesterol in our diets caused heart disease – which led to a literal ton of non-fat and low-fat foods packed with SUGAR. Since the 1980's there has been an epidemic of obesity leading nutrition scientists to believe that fat is okay (and necessary) and added sugar is the enemy.
Red meat is considered a bad boy but then protein is important in satiety (and red meat is packed with protein) – so should you rule it out? Eggs were a problem because of their high cholesterol but now are okay (we think) because they are a low calorie, high protein food.
Coffee is bad because of caffeine but good because of anti-oxidants.
I could go on and on and on. Frankly, I think most Americans choose the nutritional science that they like and ignore the advice that they don't like – which makes sense to me.
What if the reason for all the conflicts is that we are all different? When I meet someone new (and they discover that I am Snack Girl), they are always ready to tell me the healthy choices that they believe work. Gluten-free, vegan, vegetarian, no complex carbohydrates, berries, kale, salads, quinoa, chia seeds, juicing, raw food diets, high protein meals, eating before 6 PM – whatever concept they have picked from all the myriad of advice out there.
I cannot say which thing (if any of them) will solve your healthy eating dilemma.
What I know is this – cookies, chips, soda, and candy (and anything that is masquerading as a healthy version of these things) should be limited. Fast food and eating out is rarely healthy. Eating more fresh fruits and vegetables instead of cooked food will mean that you eat fewer calories and feel fuller.
As we start 2016, why not take a look at one section of your day and make one change? For example, if you eat a frozen waffle for breakfast with butter – try a sprouted grain bread with some peanut butter or avocado.
Find times in your day or week where you are leaning on fast food or a sugary snack and try to change just that ONE instance.
I think you will be far more successful with one doable step than a complete overhaul of everything you eat.
And now I will lead by example!
Next week, I will not drink a Starbucks specialty drink. I will stick to black coffee.
Even your fearless leader has her mountains to climb. I got hooked on Frappucinos which are not only packed with sugar but expensive and I need to get my habit under control. I believe one tall per month would be okay. I have to start next week because I already drank a mocha (not kidding). I managed to buy a mocha when I went to the pharmacy to pick up medicine for my cough. So sad.
Please post one step below in the comment section as a pledge for you to attempt.