Wheat Thins Manufacturer (Kraft) Talks To Snack Girl
Last week, Snack Girl posted Whole Grain vs Original Wheat Thins and pointed out the differences between 100% Whole Grain Wheat Thins and Original Wheat Thins.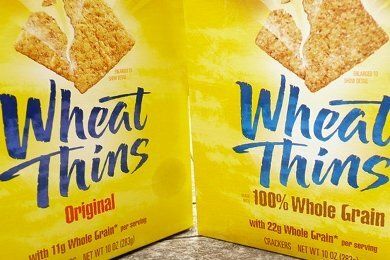 If you read the post, you read that I had contacted Kraft regarding the fact that the 100% Whole Grain version didn't look as healthy as the original.
Well, it only took them 5 days to get back to me and I actually spoke to a company representative, Basil Maglaris. I have posted his e-mail below.
I realize that some of my readers might be wondering why I even talk to major food corporations since they create stuff like the McDonald's Frappe. BUT, I think that they are here to stay and that we should engage them in a dialogue to influence them to produce healthier products.
For example, Michael Pollan slammed Whole Foods. Then, he met with their CEO and their meeting seemed to produce results. Here is a letter that Pollan sent to Whole Foods: Michael Pollan's Second Letter To Whole Foods.
So, I give credit to Kraft for engaging a critic and creating a dialogue. Thanks!
Finally, if any of you have questions for Basil regarding the Wheat Thins, I will happily get him to answer them and post his response here on Snack Girl.
From Kraft:
We began improving several of our Wheat Thins varieties in August 2009 and your box of Original Wheat Thins is one of them – we removed the high fructose corn syrup, reduced the sodium by 10%, and more than doubled the whole grain content from 5g to 11g per serving.
The current "100% Whole Grain" Wheat Thins hasn't undergone some of the same recipe changes so when you compare the two products, you're correct that there are noticeable differences in their recipes.
As you've heard, our plans are to increase the whole grain content of Original Wheat Thins to 100% whole grain. When we make the transition to 100% whole grain for Original Wheat Thins, we'll be discontinuing the "100% Whole Grain" Wheat Thins you see on shelf today, along with its old recipe.
I'm happy to address your question on fiber as well. When we release our new Original Wheat Thins with 100% whole grain, it will have 3g fiber per serving.
Our current "100% Whole Grain" Wheat Thins on shelf was introduced several years ago and since then the technology for measuring fiber content has advanced. The Whole Grains Council confirms that 22g of whole grain wheat delivers 3g of fiber. Our new Original Wheat Thins will reflect that.
Many Americans are falling far short of the minimum three recommended servings of whole grains each day. We feel we're offering many ways for people to get more whole grain in their diets while enjoying the foods they already love like Wheat Thins.
Thank you again for sharing your concerns and we hope you continue to enjoy Wheat Thins in the future.
Sincerely, Basil Maglaris
Basil T. Maglaris
Associate Director, Corporate Affairs
Kraft Foods Inc.

Have any questions for Basil? Post them here!!