Which is the Healthiest Bread at Subway?
Which is the healthiest bread at Subway? You would think the answer to that question would be easy.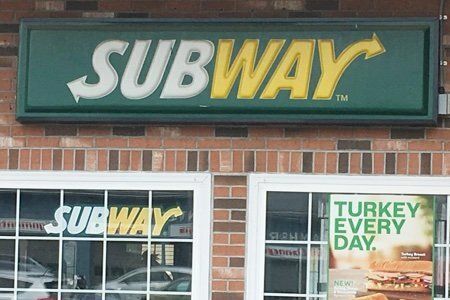 Unfortunately, like many fast food options such as the Grilled Chicken Sandwich at McDonalds, the answer isn't so clear.
The healthiest sandwich does happen to be an easy call. The Subway Veggie Delight with its piles of lettuce, tomatoes, and onions is always a great choice. You don't have to worry about anything but not drowning it in mayo.
Many of us are looking for whole grain, low calorie, and low sugar options for our sandwich bread. Obviously, the most problematic ingredient for the Subway Veggie Delight is the bread.
I initially thought that the best idea would be a wrap like the sandwich below.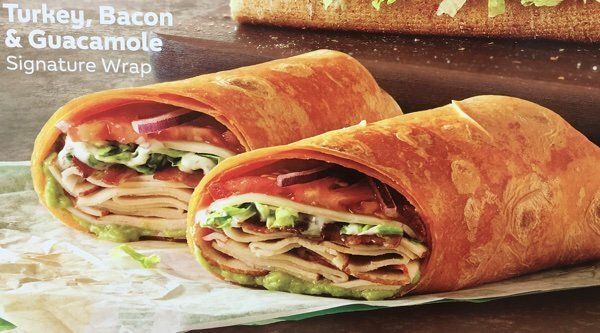 When I think of wraps, I think of a thinner bread option that is low on carbs. Not at Subway! The tomato basil wrap has:
300 calories, 8 g fat, 3.5 g saturated fat, 49 g carbohydrates, 1 g sugar, 8 g protein, 0 g fiber, 730 mg sodium, 9 Freestyle SmartPts
That is just the bread, people! What happens when you start adding stuff to it? Sheesh. Do not order the wrap.
The other two choices are the 9-Grain Wheat or 9-grain Honey Oat and the Flatbread. The 9-Grain Wheat is NOT WHOLE GRAIN as it is made with white and wheat flour. Do not be tricked!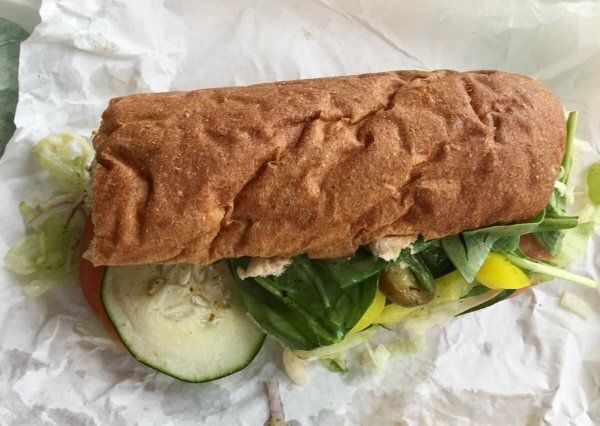 This bread is really a disappointment on so many levels. First, the texture is like Styrofoam. Have you ever eaten Styrofoam? No? Good for you! Secondly, there is five grams of added sugar which is simply not necessary for Styrofoam.
Here are the nutrition facts:
210 calories, 3 g fat, 0.5 g saturated fat, 40.0 g carbohydrates, 5 g sugar, 8 g protein, 4.0 g fiber, 270 mg sodium, 6 Freestyle SmartPts
The 9-Grain Honey Oat has one more gram of sugar per serving. The good news here is that there is fiber and less sodium than the other options. Also, it does include 9 grains – but I am not sure how much of them.
I would definitely ask to have the sandwich maker core the sandwich out before she puts the vegetables on. This sandwich turns out to be a lot of bread and it isn't necessary. It is sad to waste food but what are you going to do? It tastes better with less bread and it will have fewer calories.
Finally, there is the flat bread. I hear there is a multigrain flatbread but I was unable to find it.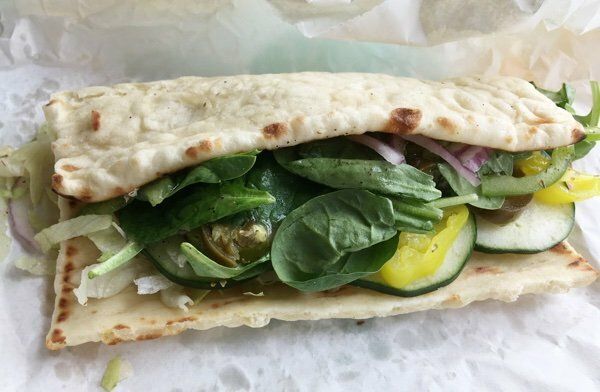 The texture is like eating a soft rubber and is not any better than Styrofoam. ☹ Here is the nutrition information:
230 calories, 1.5 g fat, 1 g saturated fat, 39 g carbohydrates, 2 g sugar, 7 g protein, 1 g fiber, 340 mg sodium, 7 Freestyle SmartPts
The flatbread has less sugar and less fiber than the 9-Grain bread. I think that because it is not made with any whole grain – I would say that the 9-Grain is healthier even though it has more sugar. It is a tough call and I wouldn't worry about it too much.
You are still doing far better than the wrap if you go with the Flatbread.
Which bread do you order at Subway? Why do you choose it?
---
Other posts you might like:
---

SUBWAY Veggie Delight is the poster sandwich for a healthy fast food choice. The ingredients include whole wheat bread and a ton of veggies.
---

have looked at a bunch of food at McDonald's and today I will determine if the grilled chicken sandwich at McDonald's is healthy.....
---