Which Type of Pasta Sauce is Healthiest?
Which type of pasta sauce is the healthiest? It can be hard to figure it out in the store.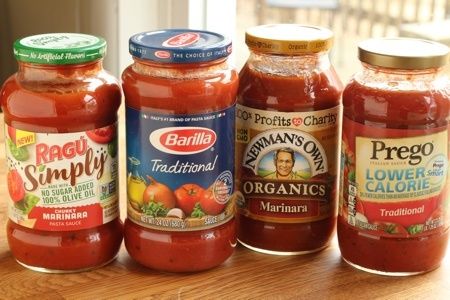 I have spent many hours standing and staring at products trying to decide if I should buy them. I have take a look at Low Sugar Tomato Sauce.
There are a couple of easy rules when looking at pasta sauce. Avoid Afredo or Vodka sauce (or anything that adds cream). These are high in fat and not worth the calories.
But, how do you decide which pasta sauce is the healthiest when it comes to all the jars of tomato based sauces?
I took another long walk in the supermarket to see what I could find. First, I thought that a lower calorie option would be the best. The good news is that all of the sauces that I looked at have the same serving size of 1/2 cup so it is easy to compare them. Don't get me started on bread.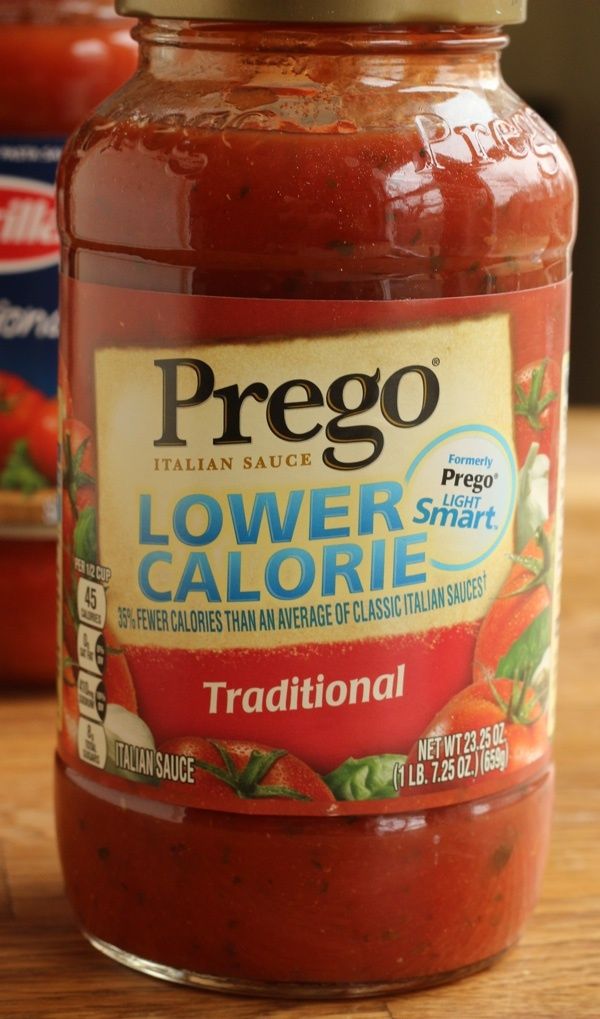 This Prego Lower Calorie sauce has these nutrition facts:
45 calories, 0 g fat, 0 g saturated fat, 10 g carbohydrates, 8 g sugar (3 grams added), 2 g protein, 1 g fiber, 410 mg sodium, 2 Freestyle SmartPts
This is the kinda thing that I hate. There is ZERO fat but Prego added sugar!! No!! Give me fat for flavor any day over sugar especially in a food like tomato sauce. Who wants their sauce to taste like ketchup? If I wanted ketchup on my spaghetti - I would just use ketchup.
This was one of the worst tomato sauces that I have ever tasted in my life. It was sweet and watery. Avoid this product!
Cost: $2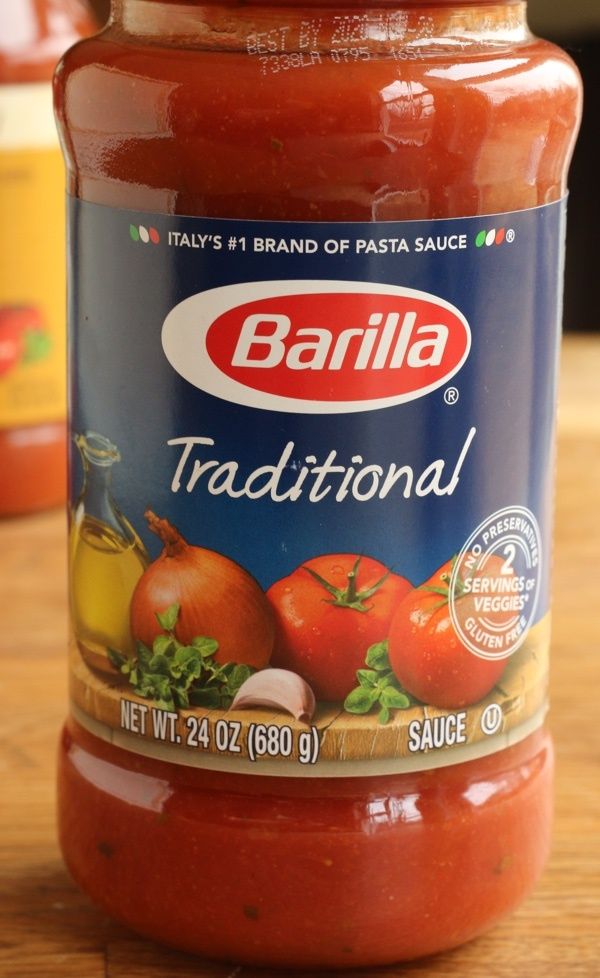 I decided to take a look at Barilla because it seemed like a solid choice. Here are the nutrition facts for the marinara:
60 calories, 0.5 g fat, 0 g saturated fat, 14 g carbohydrates, 7 g sugar, 2 g protein, 3 g fiber, 420 mg sodium, 3 Freestyle SmartPts
Seven grams of sugar is perfectly fine for a jar of tomato sauce. There is sugar in the ingredients but Barilla couldn't have added very much as the Ragu Simple (no sugar added) also has seven grams of sugar.
This was okay. I thought it was much better than the Prego Low Calorie but it was a bit boring. I would use this inside a dish (like for a baked pasta casserole) but not as the main event.
Cost: $2.10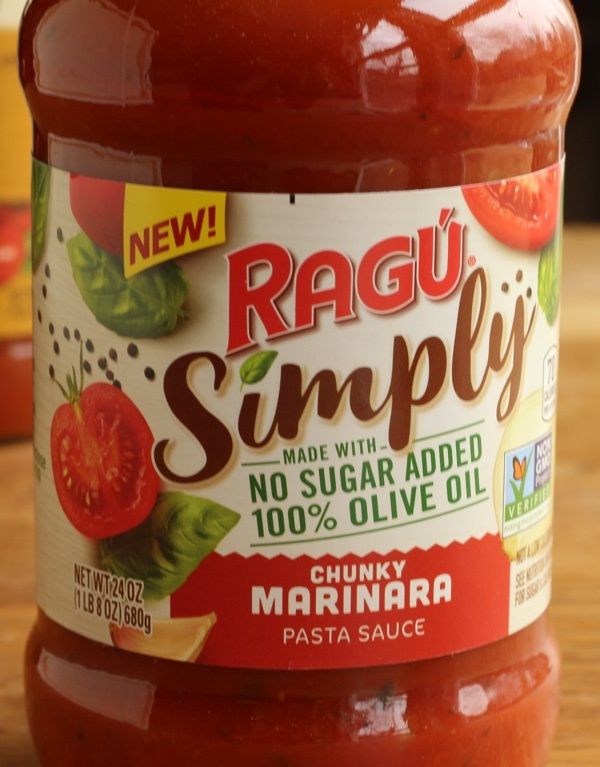 Ragu Simply wants you to know that no sugar has been added. Here are the nutrition facts:
70 calories, 1.5 g fat, 0 g saturated fat, 11 g carbohydrates, 7 g sugar, 2 g protein, 2 g fiber, 490 mg sodium, 3 Freestyle SmartPts
I really liked the chunky in this sauce and the flavor. My only concern is the sodium which is about half my daily amount in one serving!! If you aren't worried about your salt intake - this is a good choice both from an ingredient stand point.
They did add sweet potato which I thought was strange for a tomato sauce but I didn't taste it. I like sweet potato and it is packed with nutrients so I don't think that changes my evaluation.
Cost: $2.69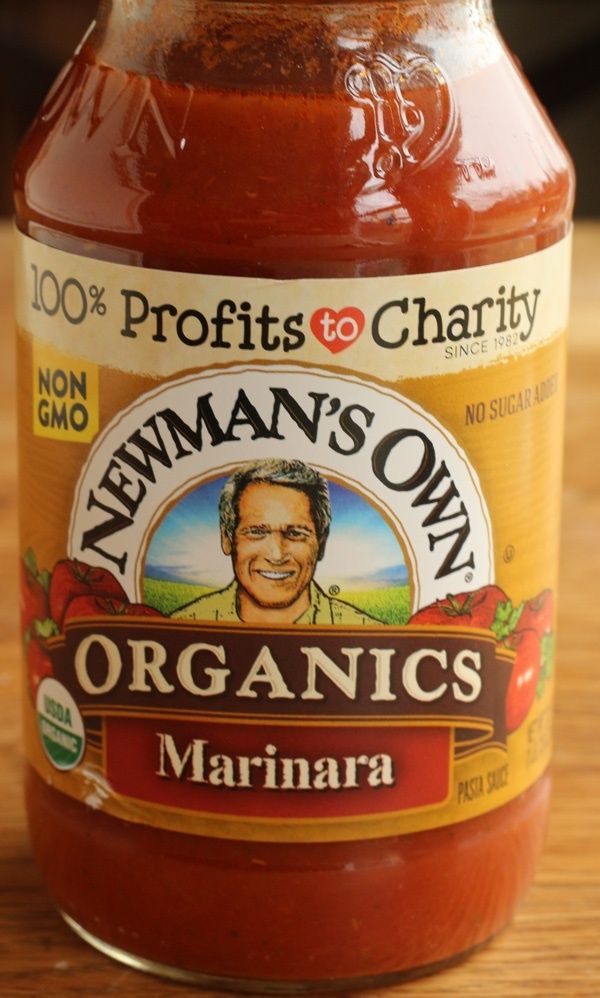 Newman's Own Marinara is organic, non-GMO, and has no sugar added. It was the most expensive jar and the most flavorful of the group.
80 calories, 4 g fat, 0.5 g saturated fat, 11 g carbohydrates, 6 g sugar, 2 g protein, 3 g fiber, 380 mg sodium, 3 Freestyle SmartPts
Sometimes spending a little more money is worth it. I liked the flavor and the texture of this tomato sauce - it was not sweet and fairly thick. They used fennel which I think was a delicious addition. This sauce has a reasonable amount of sodium per serving and NO ADDED SUGAR.
I enjoyed this on a spoon right out of the container (I did not put the spoon back in).
Cost $3.49
My favorite sauce is a homemade marinara sauce but I will eat Newman's Own Organic Marinara in a pinch.
What is your favorite healthy jarred tomato sauce? How much does it cost? Thanks for sharing!!
Other posts you might like:
---

How hard is it to find a low sugar tomato sauce? Well, I wouldn't say it is a walk in the park....
---

Do you know how to make homemade marinara sauce in 20 minutes? It is pretty easy but it does involve mincing garlic.....
---