Which Should You Buy - Whole Wheat or Regular Pasta?
My son has one food that he talks about incessantly. You guess it, KALE!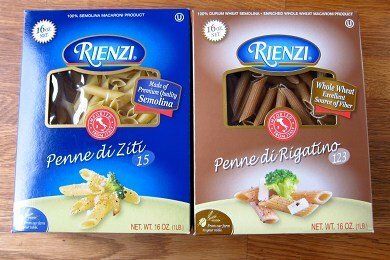 Actually, no, it isn't kale - it is macaroni and cheese. The child of this healthy food writer would rather eat macaroni and cheese than any other food on earth.
His mother has tried to find ways to enhance the below recipe (that Alex loves) to get some more nutrients in him. He has managed to pick out any vegetable I have added and complained about changes to his food love.
What to do? Well, how about whole wheat pasta? I had dismissed whole wheat pasta as a terrible idea until I spoke with an Italian chef. He said that what really mattered was what you put on the pasta - not the pasta itself. He insisted that imported Italian pasta was the best.
Italian pasta is regulated by law (seriously) and must contain 100% durum semolina flour and water. Durum wheat has a very high protein content versus other strains of wheat.
If you choose Italian pasta versus American pasta - you are getting something that probably tastes better and is a bit better for you.
Now, you can find whole wheat durum semolina pasta from Italy on the supermarket shelves. The brand I featured above, Rienzi, was in my local supermarket and has 100% WHOLE WHEAT durum semolina flour.
Here are the nutritional facts for one serving size (2 ounces) of both types:
Regular: 200 calories, 0.5 g fat, 43 g carbohydrates, 6 g protein, 1 g fiber, 0 mg sodium, 5 Points+
Whole Wheat: 200 calories, 1.5 g fat, 35 g carbohydrates, 8 g protein, 4 g fiber, 0 mg sodium, 5 Points+
As you can see, you get more protein and fiber for the same amount of calories with the whole wheat version. How does it taste?
I found that I didn't notice a difference after I put a sauce on it. Initially, when I tasted it out of colander, I thought it was going to be terrible. But, just as my Italian chef said, you don't notice the flavor of the pasta after you add the other stuff.
And, mysteriously, I ate less of it than the regular pasta. Could it be that the extra 3 grams of fiber filled me up and I felt fuller sooner? I think so!
Below, I have included Alex's favorite macaroni and cheese recipe. This is NOT one for losing weight, but it is a great one for parents who don't have time to make a cheese sauce and then a casserole. The garlic gives it a wee little kick.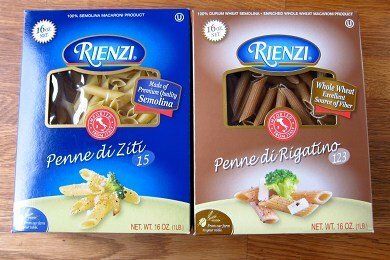 Alex's Favorite Macaroni and Cheese Recipe

(8 servings)

Ingredients
1 pound shaped pasta (whole wheat or regular)
4 cups shredded sharp cheddar (16 ounces)
4 eggs
2 cups milk
2 small garlic cloves, minced
1/2 teaspoon salt

Instructions
Heat oven to 350F and spray large casserole with non-stick spray. Cook pasta about 3 minutes short of al dente and drain. In a large bowl, mix 3 cups cheddar, eggs, milk, garlic, and salt. Add pasta, mix, and add to casserole. Top pasta with the last cup cheddar and bake until golden and bubbling about 25 minutes. Enjoy!
Nutrition Facts
455 calories, 23.5 g fat, 35.0 g carbohydrates, 25.4 g protein, 4 g fiber, 570 mg sodium, 12 Points+
Points values are calculated by Snack Girl and are provided for information only. See all Snack Girl Recipes
Other posts you might like:
---

Snack Girl has been asked multiple times about canned soup and I couldn't bring myself to research the topic. Why?....
---

How about a smoothie face off to see which product is the healthiest? This should be fun!....
---
---
Get Free Email Updates! Yes please!
---