Why I Bought an Apple Watch
My new watch was a big purchase for me. It takes a lot to get me to spend big money on electronics.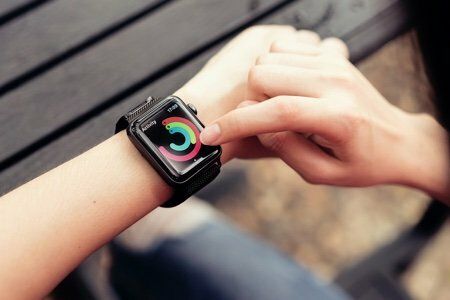 But, I do like to buy things that will help me become healthier and since I already own an iPhone – I decided to take a look at the Apple watch ($300).
Why?
There was a big article in our newspaper about how the watch had saved someone's life see Teen's Apple Watch may have Saved Her Life.
No, it didn't perform mouth to mouth – it monitored her heart rate which was erratic. It actually buzzed her in church and told her to seek medical attention. She did and found out she was on the edge of kidney failure.
The Apple Watch has been approved by the FDA as a medical accessory (with a special watch band).
Before this article, I liked the idea of a fitness tracker, heart rate monitor, as well as an extension of my phone on my arm but it didn't fall into the category of a "must have".
Every time I get a new gadget – I have to figure it out. It usually adds complications to my life (when do I charge it? How do I turn it on? What if I lose it?). This one is clearly one more thing but it does some amazing things that actually make my life easier.
It reminds me to stand up. I sit writing for hours at a time and it tells me – stand up once an hour if I haven't already stood up!
It tracks my daily activity and lets me know when I am doing well and encourages me to do more exercise when I need to get moving.
It lets me know when I am stressed out.
I was watching my son's final soccer game (he was in the finals) and it told me that my heart rate was high. I took some deep breaths and calmed down (he lost).
It also tells me how many laps I have swum in the pool and records my heart rate while exercising. Turns out that walking the dog is not exercise for me (bummer). My heart rate remains very low when walking Milo around the block so I have to walk faster if I want to hit my daily exercise goals.
The watch doesn't let me cheat.
Finally, it tells me to breathe. I don't know how often it does this but it reminds me to breathe for a minute and then walks me through some deep breathing. It is quite powerful when I am acting like a nut.
I know that there are a ton of different gadgets out there that will support you in your healthy goals. But, these gadgets have come a LONG way from simple step monitors. You can do all sorts of stuff include sharing your workouts with a friend, monitoring the quality of your sleep and answering the phone – all on your wrist.
Did I mention it also tells me what time it is? LOL
actually the time feature is helpful because it means that I look at my phone less!
This post was not sponsored by Apple (in case you are wondering). I really did buy it and love it.
Do you have an Apple Watch or Fitbit? What do you use it for? Do you find it helpful? Please share.