A New WONDERful Slow Cooker: Giveaway
Do you like to use a slow cooker? Are you ever afraid it will set your house on fire?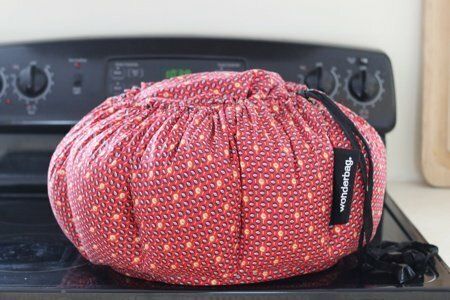 My friend, Meredith, doesn't like her slow cooker because she says everything in it is overcooked and mushy AND she fears leaving an appliance on when she is away from the house.
I have found that I use my slow cooker mostly on the weekends so I can monitor its progress (and use my fire extinguisher if needed).
After Meredith and I had this very serious chat, another buddy, Viola, e-mailed to tell me that she met the CEO of a company (on a plane) that makes something called the "Wonderbag" and Snack Girl should review it.
I got my hands on one (see above) and found myself in slow cooker heaven. Here it is with my dog, Milo.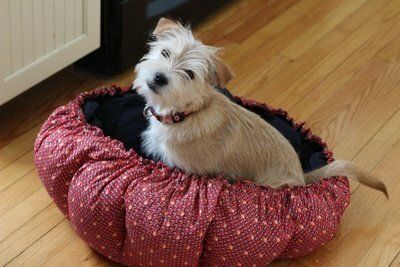 Milo confused this Wonderbag with a dog bed (as you can see). Dogs can be quite silly. The Wonderbag is a large bag that is filled with little pellets of insulation to keep your pot hot.
First, you put your ingredients in a cast-iron or other type of heavy pot such as this: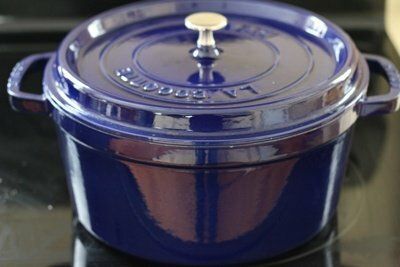 This one is a Staub enameled pot that I won in contest. Don't think that I actually have $350 for a pot (though that would be great).
You bring your recipe ingredients to a boil and let them simmer for about 15 minutes on your stove. Then you place the pot into the Wonderbag and tighten the strap.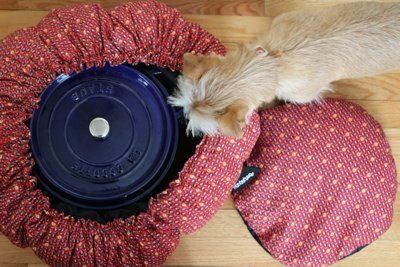 You leave it all day (more than four hours) and your food is cooked through. This photo isn't with the flaming hot cast iron pot if you are wondering if I put my dog in danger. Would I do that?
I left this beef stew in the Wonderbag for about 7 hours and then I had to heat it for about five minutes on the stove to ensure the stew was hot enough to eat.
Why is this better than a traditional slow cooker (the plug in kind)?
You use less energy.
The food is perfectly cooked and not mushy.
If you buy one, they give another one away to a family in Africa.
The carrots and potatoes retained their shape and the meat was tender. Milo and I are totally in love with our Wonderbag (for different reasons of course).
The recipe below is from my book Snack Girl To The Rescue!. This is the beef stew that I make for my family and it has about ½ the amount of beef than a regular beef stew. I bulked it up with potatoes and carrots and my kids don't even notice the difference.
When you use less meat, you save money, the environment, and you get the chance to eat more vegetables. Hurray!
I did have to change the recipe by adding a cup of water at the start to use the Wonderbag, but it did not effect the taste of the dish.
You can usually find beef round cut into chunks for stew in the meat section of your supermarket. Add some frozen peas at the end and heat for five minutes in the stew to give a splash of green and even more vegetables.
To enter to win a Wonderbag and a galley proof of Snack Girl To The Rescue! (combined retail value of $69) please comment below on your favorite slow cooker recipe.
This product was received for review consideration. No other compensation was provided.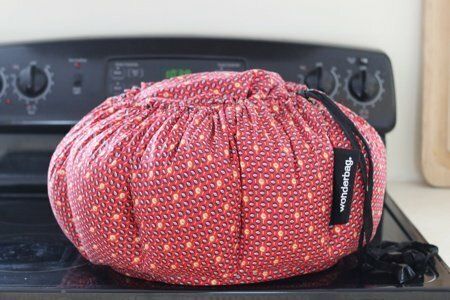 Slow Cooker Beef Stew
reprinted from Snack Girl To The Rescue!
Serves 8,
 1 ½ cups per serving
Ingredients
1 ½ pounds beef round stew meat, cut into 1 ½-inch chunks
2 tablespoons balsamic vinegar
2 tablespoons all-purpose flour
1 (14.5-ounce) can diced tomatoes with no added salt
1 pound (4 medium) red-skinned potatoes, scrubbed and cut into 1 ½-inch chunks
½ pound (2 medium) onions, halved and cut into 1-inch pieces
1 pound carrots, peeled and sliced into 1-inch chunks
3 garlic cloves, peeled and smashed
2 bay leaves (optional) Salt and pepper to taste
Instructions
Slow Cooker Version:
Place the beef in a 6-quart slow cooker. Mix in the vinegar and flour. Pour the diced tomatoes with their juice on top of the beef. Add the potatoes, onions, carrots, garlic, and bay leaves (if using) to the slow cooker, leaving the beef completely submerged at the bottom of the pot. Cook on low for 7 hours. Remove the bay leaves, taste, and season with salt and pepper.
Wonderbag version:
Place beef in cast iron pot and mix in the vinegar and flour. Add the diced tomatoes with their juice, potatoes, onions, carrots, garlic, one cup of water, and bay leaves (if using).
Heat until boiling and reduce to a simmer with the top on for 15 minutes. Place the lidded pot into the Wonderbag for a minimum of four hours to finish cooking (can be left all day).
Salt and pepper to taste, and serve.
Nutrition Facts
For one serving = 279 calories, 8.5 g fat, 3.1 g saturated fat, 21.6 g carbohydrates, 6.2 g sugar, 28.3 g protein, 4.0 g fiber, 117 mg sodium, 7 Points+
Points values are calculated by Snack Girl and are provided for information only. See all Snack Girl Recipes
What will I win?
A Wonderbag and a galley proof of of Snack Girl To The Rescue! ( combined retail value of $69 retail).
How do I enter?
Comment below on your favorite slow cooker recipe.
Additional Ways To Enter:

Follow Snack-Girl on FaceBook. Comment on the FB page on your favorite slow cooker recipe.

Follow Snack-Girl on Twitter and Tweet this post (use the Tweet Button in the Share Box at the top of this post).

Snack-Girl can follow and count all the additional entries using magical website tools.
Am I eligible to enter?
This giveaway is offered to US residents only.
When do I find out if I am the winner?
The randomly chosen winner will be announced on February 18th, 2014. You will have 2 weeks to e-mail us back with your home address so we can mail the prize.
---
$49.95 Buy on Amazon.com
As an Amazon Associate, I earn from qualifying purchases.
---
---
Get Free Email Updates! Yes please!
---