I'm So Tired of This Crap (the recipe)
My pal, Josie, over at Yum Yucky is a riot. She reviews many healthy packaged foods - and she makes me giggle. She shared this fantastic post with me.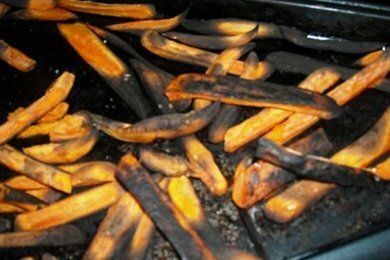 And, we have a winner for the cool snack bag from Bag It Concious (via random selection) - Pam! Pam wants me to review 100 calorie snacks from Hostess.
From Yum Yucky:
You heard me right. I'm tired of this crap! I keep screwing up the food; just like those black 'n crispy Dino Nuggets I made last week.
In case you haven't heard, I hate to cook. I hate it with a passion. I hate it real good, like when my crappy neighbor decided to wake me up, running his loud azz snow blower at 3 a.m. in the middle of the blizzard. I hated that too.
I worked real hard on those fries. I peeled the sweet potatoes with care and cut them up in perfect slices. I even used sea salt.
But behold the end result. It came complete with smoke detector shrieking and husband yelling, "what the hell is going on here!"
I apologize to my family. I just want to eat the food. I don't like to cook it.
But just in case you're wondering, I ate some of the fries anyway. Never mind the health benefits of sweet potatoes. My cooking FAIL was 90% nasty with homemade charred flavoring.
---
I'm-So-Tired-of-This-Crap Sweet Potato Fries Recipe
(non-burnt version)
Peel 1-2 sweet potatoes per person (depending on how greedy they are).
Rinse, then slice into french fry shape.
Lightly drizzle with olive oil.
Throw fries on shallow baking pan and sprinkle with sea salt.
Bake at 425 degrees for 20-30 minutes, flipping half-way through cook time. But don't be a blockhead - use a timer. While they cook, pick up any stray slices that fell on the floor. Rinse off and eat.
---
Excuse me if the recipe instructions are not real professional 'n stuff. This is how I do it. Minus the burnt part.
Share your cooking failures with Josie. She clearly can use the support!
Want to read about snacks?
Got a Case of the Mondays? This Will Make You Smile
77 calories packed with nutrition
Healthy Homemade Granola