Add A Ton Of Flavor To Any Dish (Zero Calorie Sauce)
Do you like your food to taste really good? For example, after serving a potential partner a meal, do you want a marriage proposal?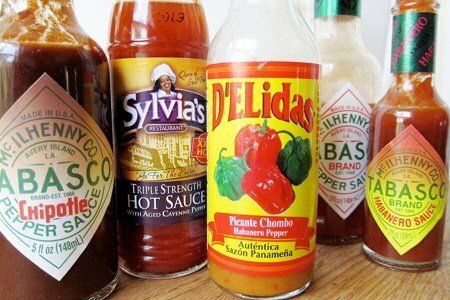 Well, I have the sauce for YOU. I am talking about hot sauce, baby. This stuff will make any dish have the zing of a restaurant meal without adding any calories.
We all know that restaurants are famous for slathering on the butter (see: Grilled Salmon Fiasco), salt, and whatever else they can find to make you come back.
I happen to believe that if you are smart about it, you can season food without hardly any calories and have it taste restaurant good.
Here are some suggestions for adding zero calorie zip:
Chopped fresh herbs. I have a basil plant on my window sill because I am too lazy to go out into the yard to pick it. I find myself adding it to salsas, salads, sauces, etc.
Fresh lime or lemon juice. I LOVE squeezing a lemon all over the place. Yes, it can be an expensive habit but the flavor is so much better than the bottled stuff.
Hot sauce. Most hot sauces are less than 5 calories per TABLESPOON and you aren't gonna use that much.
My favorites are above - Tabasco, Chipotle Tabasco, Habanero Tabasco, and D'Elidas (someone sent me this one in the mail - thanks!).
The grocery store is filled with all kinds of hot sauces from around the globe. Sriracha "Rooster Sauce" has been all over the cooking websites and I can find it in my local Stop & Shop.
I put hot sauce in a lot of my food. I eat it in my beans and rice, eggs, currys, chili, potato salad, pasta sauce, oatmeal, tuna fish..... If I didn't have kids that freak out at the sight of pepper, I would use it even more.
For those of you who fear spice, there are a bunch of sauces on the milder side that will still add punch to your dish.
Do you love hot sauce? Please share what you use and how you use it.
---
Other posts you might like:
---

Hellmann's Olive Oil Mayonnaise is one of those products that has me scratching my head.....
---

Tuna melts use to be a staple in my college dorm. One cup mayonnaise, a little tuna, and say the word "green" and you had lunch!...
---