Anyone want to hazard a guess about this kitchen appliance?
I hadn't met one until this one arrived at my door. This Zojirushi rice cooker looks like it comes from another planet. And the rice it makes is out of this world!! He he.
Back in April, 2012, I wrote this brilliant article - Brown Is Beautiful: Making The Switch To Brown Rice on the relative healthiness of brown rice and I included a recipe that I use for cooking it.
A bunch of readers told me about their Zojirushi rice cooker which they thought was brilliant. After I reposted the article this year, and heard about this rice cooker again, I approached Zojirushi and requested what I thought was a $40 rice cooker.
My rice cooker, a $15 model from Walgreens, had never made anything but soggy rice so I had given up on rice cookers.
A couple of weeks later, this lovely rice cooker showed up on my doorstep. It took me a while to get to it, but I used it last week. It is ridiculously easy to use.
1. Measure and rinse your rice (measuring cup provided).
2. Pour in water to correct line. See below: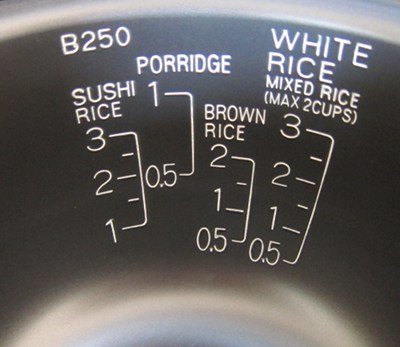 3. Choose the "Brown Rice" setting.
4. Wait for one hour and 40 minutes to have perfectly cooked brown rice.

Oh, I forgot, you need to plug in the machine.
The brown rice was easily the best that I have ever had and I found myself shoveling it in my mouth without even any salt on it. This is a find!
Then, I checked Amazon.com to see what link I should post to this amazing product (see below) and found that Zojirushi had sent me a $132 rice cooker. OMG! No wonder it was such a gem.
This is a Japanese rice cooker, folks. This type of cooker is essential in most Asian kitchens and if you cook a lot of rice, you need to check it out.
The one they sent me is a 3 cup version which is perfect for 2-4 people. You can program it to finish cooking at any time. I set mine up at 8 AM and programmed it to be done at 6 PM so when I walked in the door, my rice was done.
You can also "cook" in your rice cooker (not unlike a crock pot). Check out this recipe page – Zogirushi Rice Cooker Recipes. It makes oatmeal, wild rice, and steel-cut oats, quinoa, sushi rice, and white rice.
Anyway, I would never have spent $130 on a rice cooker because I am too cheap. Now that I have one, I realize that it is going to save me time, the rice is amazing, and I like using it. Go figure.
Do any of you have a top end rice cooker? Please share.
This product was received for review consideration. No other compensation was provided.
Snack Girl receives a small percentage of sales from links to Amazon.com.
---
Other posts you might like:
---

Hey, we all want to be beautiful. How about trying some brown rice to aid your efforts?...
---

Snack Girl did something different the other day to her favorite "rice and bean" bowl. She substituted a vegetable in the bowl above...
---