Kid Friendly Snacks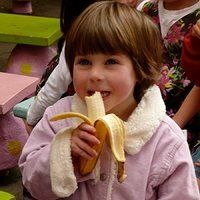 Our Ruby Snacking
We know how hard it is to find healthy snacks that kids will eat. We have 2 young children who drive us crazy asking for treats.
About Snack Girl.
How can we help you keep your child interested in eating healthy?
We share tips about how to best feed your kids. We help you decode food labels to determine what really IS healthy. And we help you create fun ways to introduce your child to healthy food.
We have created a list of kid friendly snacks, including such hits as Energy Bar Recipe and Ants on a Log.
We add new snacks to our database every week. Get 2 snack suggestions and/or articles about healthy eating in your inbox every week.
Search
Search for your favorite snack. If we haven't covered it yet - put it in our Suggestion Box and we will review it for you.
---